Vegan Beers at Trader Joe's – now when it comes to Trader Joe's wine may be the thing that you associate more with the grocery chain than beer. And to be honest you would be right. Trader Joe's started out as a wine merchant – hence why even today the stores have such a great wine selection. They even have a great vegan wine selection – just check out my piece 10 Must Buy Vegan Wines at Trader Joe's. But, what about when it comes to beer? How does everyone's favorite Hawaiian shirt-wearing grocery store stack up when it comes to vegan beer options? What are the vegan beers available at Trader Joe's? Time to find out.
Is Beer Vegan?
As a general rule, beer for the most part is vegan. In fact, beer is the opposite of the wine industry. Most wines are not vegan, whereas most beers are vegan. This is true for most of the mainstream beers. If you want to learn more about the details of how beer is made and whether it is vegan, you can read my post: Is Beer Vegan? Introducing the Secret to Finding Out and What Beer Is Not Vegan? Beers You Need to Avoid.
Is Trader Joe's Beer Vegan?
There are vegan beers available at Trader Joe's. From vegan lagers to vegan ales to vegan IPAs to vegan stouts and vegan bocks, there is a vegan beer at Trader Joe's to suit any palate.
Vegan Beers at Trader Joe's – Summary Table
---
| | |
| --- | --- |
| Best Vegan Lagers at Trader Joe's   | Gila Monster Amber Lager Joseph's Brau Bohemian Lager   |
| Best Vegan IPA at Trader Joe's   | Mission St IPA   |
| Best Vegan Budget Beers at Trader Joe's   | Simpler Times Lager and Pilsner   |
| Best Vegan Stouts at Trader Joe's   | Stockyard Oatmeal Stout Guinness   |
| Best Vegan Pilsner Style Beer at Trader Joe's   | Joseph's Brau Bohemian Lager   |
| Best Vegan Wheat Beer at Trader Joe's    | Joseph's Brau BohemianHefeweizen   |
| Best Vegan Bock Beer at Trader Joe's   | Josephs' Brau Hofbrau Bock   |
| Best Ale at Trader Joe's   | Smithwick's Red Ale   |
---
Vegan Beers at Trader Joe's – Item-by-Item Breakdown
Below is an item-by-item breakdown of 10 vegan beers I found at Trader Joe's. Trader Joe's doesn't sell online or via Instacart, so I have not provided any links. I am afraid you must physically go visit a Trader Joe's, but frankly, who needs an excuse to do that?
1. Gila Monster Amber Lager
I start the list with an Amber Lager. These drinks are traditionally medium-bodied with toasty or caramel-like malt characters. This one from Gila Monster is light and easy to drink with a lovely amber color. Its flavoring consists of caramel malt and a slight metallic bitterness. Gila Monster Amber Lager is available at Trader Joe's.
2. Mission St. IPA
IPAs, at the time of writing, are all the range in the beer industry. Consisting of stronger hop flavor profiles these beers tend to be much more "floral" in flavor with a stronger bitter edge. This Mission St IPA is the only IPA on the list. So, if IPAs are your thing, then this is definitely the vegan beer for you at Trader Joe's (you don't really have any other option, to be honest – take it or leave it).
3. Simpler Times Lager 
Simple Times Lager is a solid and simple lager. The lager is 6.2% ABV – so it is not something you can drink a lot of. That said, this is a budget beer and for the price, it meets everything you want from a basic lager. However, online ratings of the beer, I feel, are a bit harsh given the budget-friendly price of the beer. Available only in can format choose this beer if you are looking for a simple (see what I did there), very affordable, basic vegan option. Just don't drink too much.
4. Simpler Times Pilsner
The second entry from Simpler Times is their Pilsner. What's the difference between a Pilsner and a Lager? Well, the main difference is that a Pilsner is a stronger flavored lager – using more hops and different yeast in its brewing process. Slightly weaker than the Simpler Times Lager option – coming in at only 5.5% this may be the go-to option if you are looking for a weaker beer option (though 5.5% for a beer in a can is still high). The beer comes in packs of 6 cans at the amazingly low price of $3.99 for a six-pack. Again, it won't blow your socks off but for the price point, it is a pretty solid beer you can not complain about. Plus it is vegan.
5. Stockyard Oatmeal Stout 
Do you enjoy heavier, darker, and denser beers? Then maybe a Stout is for you (for example Guinness is a Stout). Stouts can be made in a lot of different ways. Their denser profile traditionally lends them to being brewed with dairy or cream to add to their flavor. These beers are not vegan. However, you can also make what is known as Oat Stouts, which in this case is the beer offered by Stockyard. Using Oatmeal rather than milk, lactose, or cream, these beers offer a great alternative if you are looking for a creamier beer.
This Stockyard Oatmeal Stout is earthy and slightly bitter with all the chocolate, coffee, and charred oat vibes you would expect from an oatmeal stout. A must-try beer for vegans from Trader Joe's.
---
Want to learn more about Beer?
Are you vegan and enjoying a decent beer? Want to know exactly what to look for when choosing a vegan beer and what to avoid? Then check out some of my other vegan beer articles where you can learn exactly how beer is made and what exactly to look out for when choosing your next vegan beer.
---
6. Joseph's Brau Bavarian Hefeweizen
What is a Hefeweizen beer? Good question. A Hefeweizen is a type of German wheat beer (also known as a Weiss beer). In this case, a Hefeweizen beer is referring to a white wheat beer where the beer is made up of at least 50% or more wheat. The result is a much lighter and flavorsome beer typically made up of flavors raining from banana to bubblegum, vanilla, and clove. Hefeweizen beers will typically also be hazy. These beers are perfect for the Summertime or hot days. They are light and refreshing. They are also one of my personal favorite beers.
7. Joseph's Brau Bohemian Lager
The second Lager to make the list (Lager is the most popular beer style in the world – think Budweiser, Corona, Coors, etc, these are all Lager). This entry from Joseph's Brau is biscuity in flavor and a great vegan Lager option.
8. Josephs' Brau Hofbrau Bock
The third entry from Joseph's Brau on the list is a Hofbrau Bock beer. What on earth is "Hofbrau Bock"? Excellent question. A Hofbrau refers to a Munich-style beer conforming to the Bavarian Purity Laws of 1516. "Bock" simply refers to the Lager brewing process of yeast sinking to the bottom during the fermentation. Rich and golden in color these are the beers you see people consuming in huge beer steins during Oktoberfest. About as classic a beer as you can get on the list.
9. Smithwick's Red Ale
Only the third "Ale" to make it on the list. This Smithwick's Red Ale is a great vegan beer option from Trader Joe's. Red ales use kilned malts and roasted barley to create this beer's "red color". The result is also medium levels of fruity flavors, bitterness, and malt character. They are similar in taste profile to IPAs.
Smithwick's Red Ale is the most consumed ale in Ireland – so it is a solid choice. The beer is rich and satisfying with caramel, hops, and toasted grain notes.
10. Guinness
Last, but not least, is probably one of the most famous beers on the planet – Guinness, an Irish Stout. Guinness has not always been vegan. In fact, for a long time, the brewery used Isinglass (dried fish bladders) as a fining agent in their beers. This all changed when in April 2017 Guinness moved to a different filtration system which allowed for most of their beers to become vegan-friendly.
A solid Irish Stout, Guinness is a dark and dense beer. Everything you are looking for from a traditional Stout.
At the risk of being persecuted for writing this, one of my favorite things to do is to add a shot of blackcurrant cordial to a pint of Guinness (what is called a "Guinness and Black"). The result is a slightly sweeter drink with slightly fruiter flavors. Delicious. Though some people will think this is sacrilege.
---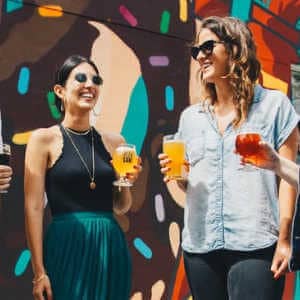 Vegan Beers at Trader Joe's – The Final Sip
Can you get vegan beers at Trader Joe's? Yes, yes you can. In the above list, I tried to provide a good selection of vegan beers for you to choose from. There is enough selection of beers to suit any and most occasions. Just watch out for the Simpler Times – those things are ridiculously strong. What is my personal favorite – it would have to be entry number 6 on the list – the Hefeweizen. I personally love the lighter flavor of white wheat beers. Plus if you are feeling experimental you can always try adding a shot of blackcurrant to Guinness – honestly, it is delicious.

…now you know.
Beverage makers may change ingredients and/or manufacturing processes. Always double-check ingredients before purchasing any beverages.
Please Drink Responsibly.
---
Like What You Are Reading
Need to know more? Think your favorite beer or wine is vegan? How about your favorite Vodka, Tequila, or Gin – think those are vegan? Time to find out – check out some of my other articles:
References
Vegan Trader Joe's Beers on Barnivore (as at 30 Dec 2021)