Vegan Energy Drinks – in my previous post (Are Energy Drinks Vegan? Complete Guide To Finding Out) I looked at whether energy drinks are vegan. I looked at big brands such as Red Bull, Monster, and Bang, and broke down whether they are vegan. The conclusion was that most of the big energy brand drinks do not contain any animal-derived ingredients and are vegan. Some, however, do contain artificial colors which some vegans avoid. This is because artificial colors are routinely tested on animals. Much like many of the big soda brands, it feels like some of the big energy drink brands are accidentally vegan rather than being purposefully vegan. In this post, I am going to go through seven purposefully vegan energy brands. Why? Because vegans need energy drinks sometimes too. That, and much research out there shows that most energy drinks are drunk for personal enjoyment.
Are Energy Drinks Vegan?
There are a number of vegan energy drinks that have been launched in recent years. They are made of plant-based ingredients and often the caffeine comes from natural sources such as yerba mate, green tea, and guarana. They are usually also sweetened with natural sweeteners and often contain added vitamins and nutrients. So, it's time to let you know exactly the plant-based energy drinks available. The ones with no artificial colors, ingredients, or other ingredients you haven't heard of before.
To make it easy for you they are all available on Amazon (isn't everything) so you can try a few at the same time if you wish. I have put a link to the relevant Amazon page at the end of each reviewed item.
1. Best Vegan Energy Drink with a Zero Sugar Ingredient List – Zevia Energy
We talked about Zevia in my post 8 Awesome Vegan Sodas You Need To Know About). Well, here is Zevia's baby sister – Zevia Energy. Zevia Energy is still plant-based and sweetened with stevia (the name wouldn't work otherwise, right?). Zevia Energy contains zero sugar and zero calories and comes in the flavors grapefruit, kola, mango ginger, and raspberry lime. The boost comes from organic caffeine. The ingredient list is also relatively simple for an energy drink. For example, these are the ingredients in raspberry lime –
"Carbonated Water, Citric Acid, Organic Stevia Leaf Extract, Organic Caffeine, Natural Flavors."
Sometimes natural flavors can be non-vegan but there is nothing to worry about here as Zevia promotes the drinks as vegan.
Here is the Amazon link for Zevia Energy – click here to go to Amazon.
---
What About Other Drinks – Are They Vegan?
Do you think your favorite Soda is Vegan? Did you want to find out? How about that Red Bull you go to each morning – think that is vegan? Well, happily you can now find out. Check out my other pieces below:
---
Brought to you by one of the original acai brands. Sambazon Amazon energy drinks definitely pack a punch in the caffeine department – they contain plant-based organic caffeine sources Yerba Mate (that's yehr·buh maa·tay), green tea, and guarana. This is the equivalent of two shots of espresso in one can of Sambazon. Two shots! Sambazon Amazon energy drinks are certified organic and vegan.
The drinks are sweetened with organic cane syrup and organic stevia extract.
Sambazon Amazon Energy comes in pretty unique flavors such as blood orange acerola, jungle love acai berry passion fruit, low calories acai berry pomegranate, and original acai berry.
Here is the Amazon link for Sambazon – click here to go to Amazon.
3. Best Vegan Energy Drink for Added Vitamins & Nutrients – Aspire
If you are looking for an energy drink that also provides you with essential vitamins, then Aspire energy drinks may be the drink for you as they contain vitamins B and C as well as nutrients. The caffeine comes from green tea and guarana seed extract and is the equivalent of a cup of coffee in each can. Aspire comes in flavors such as raspberry acai, cranberry, dark cherry lime, mango lemonade, orange pineapple, peach tea lemonade, and tropical.
Here is the Amazon link for Aspire – click here to go to Amazon.
If you are looking for a vegan energy drink to have prior to a workout, then Celsius is for you. Their energy drinks are 'clinically proven to boost your metabolism and help you burn body fat.' Green Tea, EGCG, Caffeine, Guarana Seed Extract, Taurine, and Ginger Root Extract work in combination with other ingredients in Celsius to boost metabolic rate. Celsius comes in a wide variety of flavors – I love the fact they have a sparkling cola flavor. That said my flavor of choice would be the sparkling watermelon.
Here is the Amazon link for Celsius – click here to go to Amazon.
5. Best Organic Vegan Energy Drinks – Guru
We touched on Guru previously in the energy post I wrote (see Are Energy Drinks Vegan? Complete Guide To Finding Out). If it is important that your energy drink is organic as well as being vegan, then Guru is for you. Known as the original organic energy drink, this drink is crafted from powerful organic plants such as green tea, guarana, ginseng, and Echinacea.
Here is the Amazon link for Guru link – click here to go to Amazon.
6. Best Vegan Energy Drinks for Boosting Immunity – AMAZ Yerber Mate
If you are after a vegan energy drink that also boosts your immunity look no further than AMAZ Yerba Mate. AMAZ contains Adaptogens and Acerola Cherry for immunity-boosting properties. It is available in three flavors – lemon ginger, acai blueberry, and Peach Mango.
Here is the Amazon link for AMAZ – click here to go to Amazon.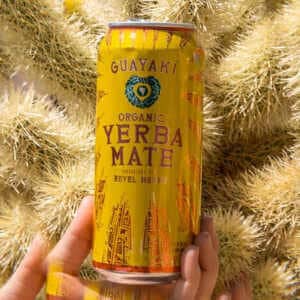 7. Best Vegan Energy Drinks with a Clean & Simple Ingredient List – Guayaki Traditional Yerba Mate
Yerba Mate is one of my personal favorite forms of energy drink. Yerba Mate is a herbal tea commonly made in South America. It is made by drying the leaves and twigs of the Yerba Mate Plant and steeping them in hot water. The plant naturally contains caffeine so when brewed produces a natural energy-boosting drink.
I have mentioned above a couple of other drinks that contain and use Yerba Mate. The difference between GuayakiTraditional Yerba Mate and other drinks is that this is literally just the dried Yerba Mate tea leaves. The ingredient list is just 'ORGANIC YERBA MATE'. Making this one of the cleanest, simplest, and most natural forms of an energy drink you can have. However, you can't just pop open a can and drink it – you do have to brew it yourself. Guayaki does have other canned versions of flavored Yerba Mate and with added sugars, if that interests you.
Here is the Amazon link for Guayaki – click here to go to Amazon.
---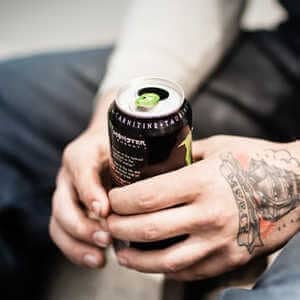 Vegan Energy Drinks – The Final Sip
Did you notice that Red Bull and Monster didn't make the list? Whilst yes, most energy drinks do appear vegan I wanted to provide you with a selection of energy drinks that do not present any questionable vegan issues. If I had to pick, my favorite go-to is always the traditional Yerba-Mate tea – the brew version (I just make a big amount at one time and put it in the fridge) or there are bottled versions of the unsweetened Yerba Mate available. Why? I, personally, like the clean and simple ingredient list. I know I am just getting my caffeine hit from the yerba plant. Plus, Yerba Mate gives a slightly less strong caffeine hit (too much caffeine makes me crazy). And, if the energy drinks don't do it for you there is always coffee (in which case you will want to check out my complete guide to ordering vegan coffee – How To Order Vegan Coffee? What Every Vegan MUST Know).

… now you know.
Beverage makers may change ingredients and/or manufacturing processes. Always double-check ingredients before purchasing any beverages.
---
Like What You Are Reading
Want to learn more? Need to know if your favorite Soda is vegan? How about that morning coffee or orange juice – think those are vegan…well do you? It's time to find out. Check out some of my other non-alcoholic vegan articles: