Vegan Sodas – if you have read my post about whether soda is vegan (Is Soda Vegan? Revealing What You Need To Know), or my post on Coca-Cola (Is Coca-Cola Vegan? Secrets To Know About Coca-Cola Drinks) or Pepsi (Is Pepsi Vegan? Secrets To Know About Pepsi Drinks), you will have discovered that most sodas are accidentally vegan. What do I mean by that? Exactly as it sounds – most sodas are accidentally vegan. They are not made from any animal-derived ingredients and are often sweetened with high fructose corn syrup (which may not be the best thing for you, but it is vegan.). Most sodas are not intentionally designed to be vegan – they are accidentally vegan. So, in this post, I want to let you know about 8 purposefully vegan sodas. By this, I mean sodas that are intentionally vegan and marketed as vegan (have you ever seen a Coca-Cola ad promoting the fact it's vegan?!). All the below sodas are not only vegan, but many have functional health benefits too (many of the functions are to do with gut health). They are also sweetened with more natural vegan sweeteners such as fruit juice, inulin, organic can sugar, cassava syrup, monk fruit, and stevia.
Is Soda Vegan?
There are some new sodas on the market that are healthier than traditional sodas and which are intentionally vegan and marketed as vegan. They are usually sweetened with a sweetener such as monk fruit, fruit juice, or inulin. They also often have added functional health benefits such as probiotics added.
To make it easy for you they are all available on Amazon (isn't everything) so you can try a few at the same time if you wish. I have put a link to the relevant Amazon page at the end of each reviewed item.
Vegan Sodas On The Market
Culture Pop is setting out to 'reinvent' carbonated drinks by making sodas with 'fun'ctional' ingredients. They make their sodas out of organic juices, organic spices, organic cane sugar, and probiotics. Essentially a yummy way of taking care of your gut health. Culture Pop comes in delicious flavors such as Watermelon Lime, Wild Berries Basil & Lime, Ginger Lemon, Grapefruit, and Orange Mango.
Here is the Amazon link for Culture Pop – click here to go to Amazon.
OIipop is another vegan low sugar and probiotic soda. It comes in some great flavors such as Cherry Vanilla, Vintage Cola, Ginger Lemon, Strawberry Vanilla, Orange Squeeze, and Classic Root Beer. Root Beer, is personally, one of my favorite sodas (I know it can be hit or miss for some people). If you want to know everything vegan and Root Beer-related you can check out my piece Is Root Beer Vegan? Unlock The Hidden Root Cause.
Each can of Olipop also packs an impressive 9g of dietary plant fiber. I love the fact that Olipop is available in more traditional flavors like Cola, Cherry Vanilla, and Orange squeeze. The only flavor to contain caffeine is the Vintage Cola which has 50mg of green-tea caffeine and 'cognitive boosting nootropics'. Olipop sodas are sweetened with a combination of Cassava Syrup, Fruit Juice, and Stevia.
Here is the Amazon link for Olipop – click here to go to Amazon.
I would be surprised if most people reading this hadn't already heard of Zevia. Zevia is a zero-calorie vegan soda, and it has really grown in popularity over the last few years.  As the name implies it is sweetened with stevia. Zevia comes in a real variety of flavors from more traditional soda flavors like Cola and Cherry Cola to fruit flavors like Black Cherry, Grape, Cream Soda, Orange, and Strawberry. hey even have a Ginger Ale flavor – if you would like to read more about whether ginger ale is always vegan you can here – Is Ginger Ale Vegan? Everything You Need To Know.
My personal favorite is the Cream Soda – I also covered whether Cream Soda is vegan in my post: Is Cream Soda Vegan? Unlock All You Need To Know.
Here is the Amazon link for Zevia – click here to go to Amazon.
Wave Soda is different from the other sodas so far on the list for two reasons – 1. all its sodas are caffeinated, and 2. they are just sweetened with fruit juice. This means if you are looking for a fruit-sweetened vegan pick me then this is probably the soda for you.
Here is the Amazon link for Wave Soda – click here to go to Amazon.
In my previous post on kombucha I talk about Health-Aid kombucha – see Is Kombucha Vegan? The Complete Facts You Need To Know. Well, this is Health-Aid's baby sister. Essentially a pop version of Health-Aid's kombucha. It still contains organic fermented tea, and it is sweetened with inulin and monk fruit.
Here is the Amazon link for Health-Aid – click here to go to Amazon.
Rocky Mountain Soda is made in small batches by a family-run company. The prickly pear flavor comes very highly recommended. I love that their sodas are made with 4 simple ingredients – Carbonated Colorado Water, Pure Vegan Cane Sugar, All Natural Flavors, and Non-GMO Citric Acid.
Here is the Amazon link for Rocky Mountain Soda – click here to go to Amazon.
Wild Bill's is a craft soda brand run by veterans. Their slogan is 'proudly served by those who have served'. They do some great-sounding cream flavors such as orange cream and strawberry cream. If 'cream' soda is your thing you should check out my post on whether cream soda is always vegan – Is Cream Soda Vegan? Unlock All You Need To Know.
Here is the Amazon link for Wild Bill's – click here to go to Amazon.
IZZE is more of a fruit-focused 'soda' equivalent – more of sparkling fruit water in fact. IZZE is made from 70% fruit juice with a splash of sparkling water. IZZE does not contain any added sugar or preservatives. It comes in fruit flavors such as blackberry, clementine, apple, grapefruit, pomegranate, cherry lime, and peach. They even have a couple of lemonades. If you are a fruity soda fan and want to switch to a healthier vegan alternative IZZE could be for you. They also state on their website that 'none of the ingredients- and the natural flavor in them- contain animal products.'
Here is the Amazon link for IZZE – click here to go to Amazon.
---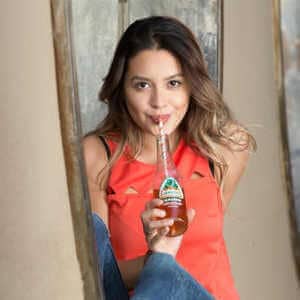 8 Awesome Vegan Sodas You Need To Know About – The Final Sip
Soda, let's face it. Everyone loves Soda. It is the most popular kind of drink in the world. Half of Americans drink one or more glasses of soda a day (Gallup), with 7 percent saying they drink four or more sodas a day. Just because you are vegan doesn't mean that you should have to miss out on soda. The good news is that you don't have to. The above eight Sodas give you a great selection of innovative and delicious sodas you can enjoy all whilst taking comfort in knowing they are vegan too.

… now you know.
Beverage makers may change ingredients and/or manufacturing processes. Always double-check ingredients before purchasing any beverages.
---
Like What You Are Reading
Want to learn more? Need to know if your favorite Soda is vegan? How about that morning coffee or orange juice – think those are vegan…well do you? It's time to find out. Check out some of my other non-alcoholic vegan articles: