Are Starbucks Canned Drinks Vegan? In this post, I am going to be answering the question "whether Starbucks Canned Drinks are Vegan?". That's right – those pre-made bottled and canned Starbucks drinks you can buy at grocery stores, gas stations, etc – how vegan are they? I will go through the main things to look out for when buying any canned Starbucks drinks and list 7 of the best vegan options available.
First, let's find out if Starbucks canned drinks are vegan?
Are Starbucks Canned Drinks Vegan?
As a general rule, most Starbucks canned drinks are NOT vegan as they contain milk. However, there are a few Starbucks canned drinks that do not contain milk. These are:
Starbucks Tripleshot Energy Extra Strength Espresso Zero Sugar Vanilla;
Starbucks Black Unsweetened Nitro Cold Brew; and
Starbucks Refreshers.
There are also a few non-dairy bottled Starbucks drinks available. These are:
Starbucks Black Unsweetened Cold Brew Coffee in glass bottles
Oat Milk Dark Chocolate Brownie Frappuccino
Oat Milk Caramel Waffle Cookie Frappuccino and
Dark Chocolate Oat Milk Cold Brew Coffee.
Most Starbucks Canned Drinks Are NOT Vegan
The majority of Starbucks canned, and bottled drinks, unfortunately, contains milk and so are not vegan.
Starbucks did release two almond milk bottled Frappuccinos a few years ago, but these sadly do not seem to be available any longer.
However, there are still a few non-dairy canned and bottled Starbucks drinks available. From sugar-free vanilla tripleshot drinks to oat milk cold brew and oat milk Frappuccino, there is a dairy-free canned or bottled Starbucks drink for you.
Some Disclaimers
First up, a quick disclaimer.
None of the below drinks have milk listed as an ingredient. However, some of the drinks contain natural flavors as well as sugar. When sugar and natural flavors are listed on an ingredient list, there is always the chance they are not vegan.
Natural Sugars
"Natural flavors" is an umbrella term that could include non-vegan flavors. However, if these natural flavors include dairy, then this should be included in the allergen statement.
Cane Sugar
Cane sugar here in the USA is sometimes processed with bone char (essentially charred animal bones). No bone char is left in the sugar, but it is processed with the char. If sugar is not listed as raw or organic, then you simply don't know if it has been processed with bone char or not.
Some vegans are fine with consuming sugar and natural flavors (as they don't know that they are not vegan – there is just a chance they are not). Some stricter vegans are not comfortable with this.
If you fall into the latter category, then stick to the nitro cold brew or unsweetened cold brew below.  
---
What About Starbucks Stores?
Do you also want to know exactly what is vegan at Starbucks coffee stores or how to always order vegan coffee? If you do, make sure to check out some of my other posts below:
---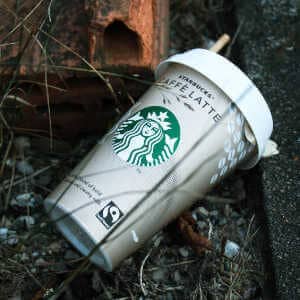 7 Best Vegan Canned and Bottled Starbucks Drinks
So, without further ado let's dig into these vegan Starbucks canned and bottled drinks.
The Tripleshot vanilla zero sugar canned drink is such a great option for when you want a canned flavored coffee with a serious caffeine hit but none of the dairy or milk.
This canned drink is sweetened with artificial sweeteners so does not contain sugar (as per the name). It does, however, contain some natural flavors.
You can check this Starbucks canned drink out on Amazon here.
There is a whopping 225mg of caffeine per can and contains added Guarana, Ginseng, & B Vitamins.
Just note that the caramel, French vanilla, zero sugar chocolate and mocha flavors of this drink all contain dairy and so are not vegan.
Starbucks canned black sweetened nitro cold brew is such a great canned coffee drink that you can be confident is vegan.
The ingredients are so simple – just water, coffee, and nitrogen. So, if you are looking for a vegan canned Starbucks drink and like to avoid sugar and natural flavors check out the black unsweetened nitro cold brew cans.
You can find them on Amazon here.
The nitrogen adds a "creamy texture and velvety smooth taste." Note that the other varieties of nitro cold brew (dark cocoa sweet cream, vanilla sweet cream, and a splash of sweet cream all contain milk).
Do you love the sound of a pre-made Starbucks cold brew coffee but are not so keen on the idea of nitrogen, and prefer to have your drinks in a glass bottle?
If so, check out Starbucks black unsweetened cold brew coffee glass bottles on Amazon here. This is literally just black unsweetened cold brew coffee in a glass jar.
If you want a dairy-free Starbucks canned drink, but aren't in the mood for coffee, then maybe their Refreshers energy drinks may be for you.
These canned Refreshers drinks are made from real coconut water and real fruit juice. They also come sparkling, contain B vitamins, and the same amount of caffeine as iced tea.
These refreshers come in Strawberry Lemonade, Black Cherry Limeade, and Peach Passionfruit. You can try a multipack of all the flavors on Amazon here.
5. Starbucks Dark Chocolate Brownie Oat Milk Frappuccino
Super exciting news. There is also an oat milk dark chocolate brownie bottled Frappuccino drink available. Can you say delish?
It is not super widely available, but I have managed to track it down at Walmart. You can check out the Walmart listing here. Get it whilst you can!
6. Starbucks Caramel Waffle Cookie Oat Milk Frappuccino
If you love the sound of a bottled Starbucks oat milk Frappuccino (and let's face it who wouldn't) but you are more of a caramel person rather than a chocolate person, then make to check out Starbucks caramel waffle cookie oat milk Frappuccinos in bottle format.
They are also quite hard to track down but I managed to find them online at Ralphs here.
7. Starbucks Dark Chocolate Oat Milk Cold Brew Coffee
The final entry on this list isn't a single-serving Starbucks drink. Instead, it is a 1.18-liter bottle of premade Starbucks deliciousness to keep in your fridge for when you fancy a vegan Starbucks hit.
This cold brew coffee is made with oat milk and is a dark chocolate flavor. Yum.
It is even marked as plant-based on the Target listing. You can find it at Target here.
---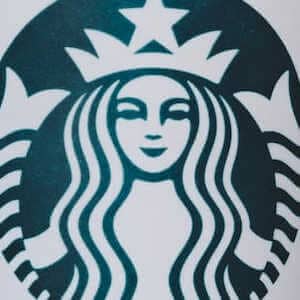 The Final Sip – Are Starbucks Canned Drinks Vegan?
Are Starbucks Canned Drinks Vegan? If you are out and about and looking to just get a canned or bottled coffee drink, then Starbucks' pre-made coffee drinks may be an option you want to consider. But how vegan-friendly are they? Well, whilst most Starbucks canned and bottled drinks do contain dairy there is a selection that I listed above that are vegan friendly. Just always make sure to double-check the ingredients before you purchase your drink.

…Now I Know.
Beverage makers may change ingredients and/or manufacturing processes. Always double-check ingredients before purchasing any beverages.
Please Drink Responsibly.
---
Like What You Are Reading
Want to learn more? Need to know if your favorite Soda is vegan? How about that morning coffee or orange juice – think those are vegan…well do you? Or how about those drinks from your favorite coffee chain or restaurant – want to know if they are vegan? It's time to find out. Check out some of my other vegan articles: