Best Flax Milk – in this post I wanted to get into one of the lesser-known plant-based milk out there, Flax Milk or specifically Flax Seed Milk. Yes, that is right it's time to learn everything there is to know about Flax Seed Milk. What are Flax seeds? What is Flax Seed milk? And what are some of the best options for Flax Seed Milk available? Fun fact, whilst you may have never heard of or tried Flax Milk before, Flax is probably a bigger part of your life than you think. In fact, you probably woke up on it. You see the same plant that makes Flax Seed Milk is also responsible for making our linen. Yep, you can thank Linum usitatissimum for that. Okay, so it has been used to make Linen for thousands of years, but what about its nutritional benefits and food benefits? What is so great about Flax Milk, and what is even available?
Flax Milk – Varieties and Availability
There are a number of kinds of Flax Milk available to buy online and in grocery stores, including:
sweetened flax milk;
unsweetened flax milk;
vanilla flax milk;
barista style flax milk;
chocolate flax milk;
organic flax milk; and
flax and chia blend milk.
Summary Table – Best Flax Milks
The best Flax Milk for you depends on what you want from your Flax Milk. The below table summarizes the best Flax Milk available based on your particular preferences.
---
Best Sweetened Flax Milk
Malibu Mylk Original Flax Milk on Amazon.
Best Unsweetened Flax Milk
Good Karma Unsweetened Flax Milk on Amazon.  

Malibu Mylk Unsweetened Flax Milk on Amazon.  

Manitoba Milling Unsweetened Flax Milk on Amazon.   
Best Vanilla Flax Milk
Good Karma Vanilla Flax Milk on Amazon.  

Malibu Mylk Vanilla Flax Milk on Amazon.  

Manitoba Milling Vanilla Flax Milk on Amazon. 
Best Flax Milk For Lunchboxes
Good Karma Vanilla Lunchbox Cartons on Amazon. 

Good Karma Chocolate Lunchbox Cartons on Amazon.
Best Barista Style Flax Milk
Good Karma Barista Edition Flax Milk on Amazon.
Best Flax and Chia Blend Milk
Lechia Chia and Flax Milk on Amazon. 
---
Flax Milk – Frequently Asked Questions
What is Flax Milk?
Flax Milk is made from Flax Seeds. Flax seeds are tiny, shiny brown seeds. The seeds (either ground or whole) are soaked in water and blended. The blended mixture is then strained (either in a strainer or a cheesecloth) to produce the final plant-based milk – in this case, Flax Milk.
Flax seeds are generally considered to be healthy – containing healthy fats, antioxidants, and fiber. I go into more about the health benefits below.
What does Flax Milk Contain?
All Flax Seed milk brands contain flax seeds. The other ingredient of Flax Milk varies from brand to brand – but as a general rule, many Flax milks contain water, gums, added vitamins, sea salt, and sometimes vanilla, sugar, cinnamon powder, or even pea protein.
Most Flax Milk tends to be shelf-stable (i.e. they have been heat-treated and sealed), therefore many of the Flax Milk brands can be ordered off Amazon (I have included Amazon links to the recommended Flax Milk below).
Is Flax Milk Good For You?
As a general rule, Flax Seeds are considered good for you. Flax Milk is high in mono- and polyunsaturated fats which are good for your heart. Flax Milk is also a great source of the omega-3 fatty acid alpha-linolenic acid (ALA) and is high in a type of phytoestrogens known as lignans. It is also high in dietary fiber, protein, iron, calcium, manganese, thiamin, magnesium, phosphorous, and copper.
To quote WebMD:
"Some call it one of the most powerful plant foods on the planet. There's some evidence it may help reduce your risk of heart disease, cancer, stroke, and diabetes. That's quite a tall order for a tiny seed that's been around for centuries.
…

Although flaxseed contains all sorts of healthy components, it owes its primary healthy reputation to three of them:

Omega-3 essential fatty acids, "good" fats that have been shown to have heart-healthy effects. Each tablespoon of ground flaxseed contains about 1.8 grams of plant omega-3s.

Lignans, which have both plant estrogen and antioxidant qualities. Flaxseed contains 75 to 800 times more lignans than other plant foods.

Fiber. Flaxseed contains both the soluble and insoluble types."
Flax Milk can contain as much calcium as dairy milk if fortified. Flax Milk can also be high in protein.
Who Should Drink Flax Milk?
Anyone can drink Flax Milk, but it is particularly a good milk replacement milk for vegans, lactose intolerant people, and anyone who has a nut allergy and can not have other nut-based milk.
What Does Flax Milk Taste Like?
Flax Milk has an earthy and nutty flavor. Flax Milk tastes great in coffee, cereals, smoothies, oatmeal. Flax Milk can also be used in baking and cooking. In terms of flavor, it is not as milky tasting as other plant milk such as Almond or Oat Milk. In my opinion, it is more akin to Hemp Milk in flavor and will take some adjusting to get used to.
---
Want To Know More About Plant-Based Milk?
Are you into your plant-based milk? Maybe you just want to learn more. If you do, then check out my posts on Plant-Based Milk:
---
10 of The Best Flax Milks
Good Karma is one of the main and most accessible flax milk brands out there (hence why it has four entries on this list). This is for good reason – Good Karma flax milk contains 8g of plant protein per serving and it contains added pea protein making it high in protein. It also contains 1200mg of omega-3 per serving.
The Good Karma Unsweetened Flax Milk obviously contains no sugar. You can try it from Amazon here.
Good Karma Vanilla Flax Milk contains the same level of protein and omega-3 as the unsweetened version but has the added benefit of a vanilla kick to it. If you fancy adding some vanilla flax goodness to your routine you can from Amazon here.
The Good Karma Vanilla Flax Milk is also available in lunchbox format. It is a perfect nut-free plant-based milk for school lunch boxes.
If you are looking for flax milk to whip up frothy coffees with then look no further. This Good Karma Unsweetened Barista Blend contains flax seed making it high in omega-3, pea protein making it high in protein, and oat milk which makes it super creamy and perfect for frothing in coffee. Oh, and it still contains 0g of sugar.
You can practice your flax barista skills by purchasing some from Amazon here.
If you like a chocolate kick in your coffee or you want to add a bit of flax seed goodness to your little one's school-packed lunch, then these small chocolate Good Karma flax milk cartons could be just what you are looking for.
They are perfect for school lunches as they are nut-free.
Three things I like about Malibu Mylk (1) it's organic, (2)it really packs a punch in the omega-3 department with 1800mg omega-3 per serving, and (3) it has great packaging – I mean palm tree prints make everything look better.
If you want to see what I mean check it out on Amazon here.
Do you like the sound of organic unsweetened flax milk with 1800mg of omega-3 per serving, but minus the vanilla? If yes, then the Malibu Mylk unsweetened milk should be your choice. I personally, like vanilla plant-based milks, but for example, my wife doesn't (we always end up with one vanilla carton for me and one plain for her).
Also, I also meant to mention it contains 3g of fiber per serving. This is actually pretty good going for milk.
If you want to learn more you can find Mylk Unsweetened Flax Milk on Amazon here.
Malibu Mylk also has an "original" version of its Flax Milk. What is the difference between "Original" and "Unsweetened" – the original contains added sugar. So, if you like your milk slightly sweeter then this may be the Flax Milk choice for you.
The original Mylk is sweetened with organic cane sugar (organic sugar is always vegan and not processed with bone char) and contains 5g of sugar per serving. All Malibu Mylks also contain probiotics which are great for gut health!
You can read more about it in the listing for Malibu Mylk's original flax milk here.
Like other flax milk brands, Lechia contains 3 grams of fiber per serving, 1200mg of omega-3, and 0g of sugar. What's not to love? Oh, the fact that Lechia is made from not one awesome seed but two! That's right Lechia is made from both flaxseed and chia seeds.
This Lechia milk has just a touch of vanilla and did I mention that it's organic? You can try it out from Amazon here.
I have talked about Manitoba before in my post about the best hemp milk – see How To Find The Best Hemp Milk Available.
As well as Hemp Milk, Manitoba also makes Flax Seed milk. The listing states that this milk contains 2 tablespoons of whole milled flaxseed per serving which is more than any other flax milk on the market. The flax used is Canadian grown and the company is family-owned.
Their proprietary milling process retains 100% of flax seed's health benefits. These health benefits include "healthy blood pressure, boosting the immune system, and promoting gut health and digestion while working to reduce inflammation and IBS."
Again, warning this Flax Seed milk is flavored with vanilla – which may or may not affect your choice. The good news is that they also do a vanilla-free version. See the next entry below.
Find Manitoba on Amazon here.
If you love the sound of the milk above but don't want the vanilla, then the Manitoba original flax milk may be for you.
The flaxseed used in their milk is grown on their family farm in Manitoba Canada where the "cool, moist climate of the Canadian prairies promise premium gold flaxseed". They are a family of 5 generations of flaxseed growers, harvesters, and producers.
So, if you want to support a family business and drink awesome nutritious flax milk then you can do so here by buying some of the original flax milk from Amazon.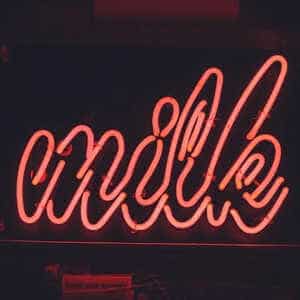 Best Flax Milk – The Final Sip
Best Flax Milk – what have we learned today? Well, apart from the fact that Flax makes Linen (seriously, that is the first time I have ever heard of that), Flax Seed Milk is probably one of the "healthiest" plant-based milk out there. If you are particularly health-conscious or just looking for a way to get more fiber or access to omega-3 fatty acids Flax Milk may be a great option for you. Yes, the flavor is slightly different (Flax Milk is something you have to let your taste buds get used to), but that being the case just pick one of the vanilla versions of the milk. I find it makes all the difference and tastes great in coffee. But, hey I am firmly in team "vanilla-flavored things".

…now you know.
---
Like What You Are Reading
Want to know what is and is not vegan at other coffee chains and restaurants, such as Dunkin' Donuts (including all of their Holiday Drinks), Coffee Bean, Dunkin' Donuts, Peet's, Philz, or Dutch Bros. If you do, then check out my other posts below: