Vegan Coffee at Philz – literally who doesn't like Philz. Anyone? It is just not possible. When I first moved to Santa Monica five years ago the first thing that came out of anyone's mouth was literally the following: "OMG, have you been to Philz. You need to get the Mojito Coffee". I kid you not. If I am being completely honest my first reaction was somewhat confusing. I mean, in what one sentence will you ever hear the words "mojito" and "coffee" mixed…it just doesn't happen. Well, it happens at Philz, and after resisting everyone's recommendations I finally tried the Mojito Coffee (a drink that has inspired copycat recipes online and, which I should clarify, doesn't actually contain rum). So, what is so different about this San Francisco Coffee brand, and most important what exactly are the vegan drinks at Philz?
What Drinks Are Vegan At Philz?
As a general rule, all Philz coffees can be ordered vegan – there is not any extra charge for ordering with oat, soy, or almond milk. Philz popular Mint Mojito can be ordered vegan and Philz has a dairy-free rose cream for their iced coffee rose.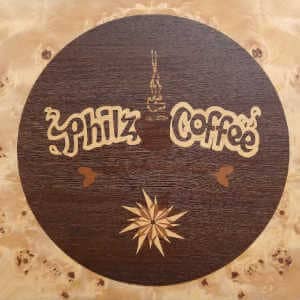 What is so different about Philz?
Philz isn't really like a lot of other coffee chains such as Starbucks or Dunkin'. Unlike most coffee chains, Philz does not have espresso-based drinks (e.g. lattes, cappuccinos, etc). on the menu. Instead, at Philz the way it works is that you start by choosing your desired coffee bean blend. Then your friendly barista (and I can personally attest that they are friendly in Santa Monica) grinds the beans and brews your cup of coffee. Each cup is brewed one cup at a time.
From there you then choose if you want to add milk or sweetness,
.etc. The main advantage of this is that you get a completely different coffee tasting experience. The downside is that sometimes it can take a bit longer to get your drink than in other coffee-espresso-based chains. But I don't mind because you can choose to get their famed mojito coffee.
Want To Make Vegan Philz Coffee at Home?
Before we dig in, do you love Philz coffee and want to replicate your fave Philz java at home (perhaps you no longer live close to a Philz)? Then you can do exactly that thanks to Philz whole bean coffee bags which can be bought via Amazon. You will need a coffee bean grinder like this one on Amazon to enjoy your Philz coffee at home. Here are Amazon links to the coffee blends currently available:
---
Vegan Drinks at Philz – Current Coffee Blends
Below is a breakdown of all the unique coffee blends at Philz as taken from their website. All of them are vegan. If you would like to learn more about whether coffee, in general, is vegan (and by the way it isn't always) then you can read my post Is Coffee Vegan? How To Find Out The Truth.
---
| Dark & Bold | Medium & Balanced | Light & Bright |
| --- | --- | --- |
| Tantalizing Turkish – Bold and bittersweet with cardamom | Silken Splendor – Silky, with notes of toffee and citrus | Greater Alarm – Bright, with notes of citrus and brown sugar |
| Jacob's Wonderbar – Chocolately, with subtle hints of fruit | Terosa – Smooth, with caramel and vanilla notes | Ambrosia Coffee Gold – Sweet, with fresh berry and honey notes |
| Aromatic Arabic – Big and syrupy, with hints of spice | Philarmonic – Creamy, with hints of maple and cardamom | Dancing Water – Soft, with hints of chocolate and almond |
| Ether – Compex, with cocoa and cherry notes | Julie's Ultimate – Rich and malty, accented by berry notes | New Manhatten – Vibrant, with citrus and tropical notes |
| | Philtered Soul – Aromatic and sweet, flavored with hazelnut | |
---
In addition to their distinct coffee blends, Philz also offers versions of drinks you can just pre-select. For example, the Iced Mint Mojito, Iced Coffee Rose, and/or Iced Gingersnap.
Vegan Drinks at Philz – How To Read This Post
In terms of the structure of this post, I will start by looking at whether the coffees themselves at Philz are vegan, followed by looking at the vegan milk options than the vegan sweetener options. I will end the post by looking at Philz's Featured Creations and whether they are vegan.
What Drinks are Vegan at Philz?
All Philz coffee blends are vegan – so all their "dark & bold", "medium & balanced", and "light & bright" coffees as mentioned in the table above are vegan. Some of the coffee blends may sound not vegan with tasting notes such as "caramel" in their Tesora blend, "toffee" notes in their Silken Splenda blend, and "honey" notes in their Ambrosia Coffee of God. However, fear not – these notes come from the coffee beans themselves and not anything non-vegan.
Philz also does not use syrups and toppings which eliminates a lot of "is it vegan" questions. Syrups, sauces, and toppings can present a lot of non-vegan issues. The only coffee at Philz that does have added flavor is their Philtered Soul blend which has hazelnut flavor added.
The best thing about the variety of blends at Philz is that a lot of them can be enjoyed drank black. Often ordering black coffee is THE ONLY and most boring option for vegans (for example, McDonald's – you are limited to the Americano and Black Coffee – see my post: Vegan Drinks at McDonald's – The Complete Guide For Vegans).
Vegan Drinks at Philz – Vegan Milk are Philz
The good news doesn't end there. Philz removed 2% milk (it was their least popular milk) from their menu back in 2020 to make way for the much more popular oat milk. That is what I like to hear.
The current plant-based milk options at Philz are almond, oat, and soy milk.
Does Philz Charge More for Almond Milk?
Philz does not charge extra for Almond, Oat, or Soy Milk. This is amazing. At the time of writing, we have looked at vegan drinks at Starbucks (How To Actually Order Vegan At Starbucks), Peet's (Vegan Drinks at Peet's – How To Know What's Vegan), Coffee Bean (Vegan Drinks at Panera – How To Know What Is Vegan), and Dutch Bros (Which Dutch Bros Drinks Are Vegan? The Complete Guide) – and they ALL charge extra for plant-based milk.
The only other place I have come across so far that doesn't charge extra for it is Panera (see my post: Vegan Drinks at Panera – How To Know What Is Vegan).
Vegan Drinks at Philz – Vegan Sweeteners at Philz
The sweetness options at Philz are – Brown Sugar, Equal, Sweet n Lo, Splenda, Stevia, or Honey. I will break down below all six sweeteners and see if they are vegan or not.
Honey
This is the only one on the list that is clearly not vegan.
Sweet n Lo
Sweet n Lo is certified vegan. Sweet n Lo does not test their products on animals. This is the best option on the menu for a vegan since it is the only one that has been certified vegan.
Equal
The ingredients in Equal are vegan. Equal does, however, contain aspartame which is tested on animals so this may be an issue for some vegans.
Splenda
The ingredients in Splenda are vegan. However, Splenda has carried out animal testing.
Stevia
This is a plant-based sweetener (i.e. not made in a lab). Stevia has been tested on animals though.
Brown sugar
There is sometimes a misconception that brown sugar is vegan. Brown sugar is refined sugar with molasses added in. This means that the refined sugar could have been processed with bone char. Therefore, unless brown sugar is marked as raw or organic it may have been processed with bone char. This may be an issue for some vegans.
Vegan Drinks at Philz – Are Philz Featured Creations Vegan?
Aside from their coffee blends, to make our lives as easy as possible Philz offers nine feature creations you can choose from. These "feature creations" already have the relevant coffee blend included so you don't have to worry about what coffee to choose. Currently, there are nine "featured creations" on the menu.
All nine can be ordered vegan.
Below is a breakdown of all nine. But, first:
Is Philz Mint Mojito Vegan?
My personal favorite. Philz Mint Mojito can be made vegan. This drink is made from fresh mint, milk, sugar, and of course, coffee. If you do not want sugar in your Mint Mojito, you could see if your barista will make it with sweet n lo instead or alternatively skip the sweetener completely.
It is called a Mint Mojito because the mint and sugar are muddled together like in a traditional mojito cocktail. You can also order this drink Hot as well as Iced.
Mission Cold Brew
Philz silky cold brew with rich malt and caramel tasting notes. Love the fact your get caramel notes without any dairy.
This is Philz's original coffee blend. Try it with oat milk and a sweetener if you are a latte fan. You can also make Philz Tesora coffee from the comfort of your own home thanks to Amazon.
Iced Ginger Snap
Creamy iced coffee with cinnamon, nutmeg, and clove spices. Perfect for Fall.
Ecstatic Iced Coffee
Bold and refreshing, with sweet notes of milk chocolate. Remember this is still vegan. The milk chocolate notes come from the coffee not dairy.
This is Philz most loved dark roast. It is recommended straight up or with dairy-free milk for vegan cappuccino fans. You can treat yourself to a bag of these dark roast beans on Amazon here.
Iced Coffee Rose
This is Philz smooth and sweet iced coffee, topped with subtle rose cream. Philz has dairy-free oat milk rose cream so make sure to ask for this to make it vegan. You can also order this with or without sugar syrup. You can also order this drink Hot as well as Iced.
This is a velvety coffee-based treat with lightly sweetened cocoa. I would just double-check with the barista that the cocoa is vegan at that store when ordering.
This is Philz's unique hazelnut blend. Try it sweet and creamy with some plant-based milk. It tastes like a flavored latte. You can buy a bag of Philtered Soul whole beans on Amazon here, and enjoy a cup of Philz hazelnut delight from the comfort of your own home.
---
Vegan Drinks at Philz – The Final Sip
Philz, if I am going to be completely honest it is my favorite coffee chain. Yes, the menu can be a little hard to get your head around because I didn't really get the difference between "coffee blends" and "featured drinks". Just look at their menu and tell me you don't think the same. But, if you are looking for a very vegan-friendly coffee experience that is actually different (no espresso-based drinks) and are willing to wait slightly longer for your drink – then Philz is the place for you.

…now you know.
Beverage makers may change ingredients and/or manufacturing processes. Always double-check ingredients before purchasing any beverages.
---
---
Like What You Are Reading
Want to know what is and is not vegan at other coffee chains and restaurants, such as Starbucks, Coffee Bean, Dunkin' Donuts, Peet's, or Dutch Bros. If you do, then check out my other posts below: