Vegan Wines at Costco – yes, Costco is that place you go to when you just need a lot of toilet paper, water, cheaper gas, cheaper tires, or because you like to roam up and down the aisles looking for all the free vegan samples you can possibly stuff into your mouth in one visit. Believe it or not, some people even go on "Costco Dates" – an evening spent perusing the aisles for free samples (oh COVID-19 how you have changed things). What is the one other thing Costco stores have in common? Well, they all have a pretty big selection of wine which got me thinking – what are the vegan wines at Costco? Like I have done for other grocery stores such as Trader Joe's, Target, Walmart, Sprouts, Whole Foods Market, ALDI, and BevMo!, it is time to give the Vegan Bev HQ treatment to all things vegan wine related to Costco. Welcome to 10 vegan wines at Costco.
There are vegan wines available at Costco. From vegan white wines such as Pinot Grigio to Chardonnay to Sauvignon Blanc to red vegan wines such as Zinfandel, red blends, and Cabernet Sauvignon, Costco has a vegan wine to suit any palate or budget.
But First, Why Is Wine Not Vegan?
First, a little recap. In my previous post, Why Is Wine Not Vegan – How To Know The Truth I talked about everything a vegan needs to know about wine. To give you a quick recap: most wines are not vegan. This is due to the common use of non-vegan fining agents (such as Isinglass, Egg albumin, and Milk Proteins) in the clarification process. Fining agents are added to wines during clarification to clamp together unwanted molecules, such as excess yeast and tannins which can then be easily removed during the filtration process.
And, yes, whilst there are vegan fining agents available the most commonly used remain the non-vegan versions.
How Can I Make Sure My Wine Is Vegan?
"How can I make sure the wine I buy is vegan?". Now that is a great question. Wine labeling laws mean that winemakers are not required to list ingredients or fining agents used on wine bottles. This can make it nearly impossible to know what wines are and what wines are not vegan. Some good news is that winemakers are increasingly labeling their wines as "vegan" or "non-fined". Sadly, the majority continue not to put anything on the labels.
This led me to want to write an article to help you sort through all these non-vegan issues and pick a vegan wine from your favorite grocery store – in this case, Costco.
10 Best Vegan Wines at Costco – Summary Table
---
---
10 Best Vegan Wines at Costco – Item-by-Item
Below is an item-by-item breakdown of 10 vegan wines I found at Costco. I have included links to all the relevant wines on Costco's Instacart so you can easily find them.
I have talked about 7 Deadly Zins before in my post about vegan wines at Walmart (see Introducing The 10 Best Vegan Wines at Walmart). With leather, oak, and spice aromas and all the jammy fruit berry flavors, as well as some toffee notes it is a delish wine that is worth mentioning again. This vibrant and sweet wine is mainly made from Zinfandel with just a touch of Petit Sirah.
Find 7 Deadly Zins on Costco's Instacart by clicking here.
If you are a regular here at Vegan Bev HQ then you will have heard me mention Bogle before. This Bogle essential red is a great everyday table wine and one I regularly purchase to go with a meal mid-week (just make sure to avoid the 2011 and 2013 essential reds as these years are not vegan). Bogle is family-owned and won American Winery of the Year in the Wine Enthusiast 2019 Awards. This essential red is made of Petit Sirah, Syrah, Old Vine Zinfandel, and Cabernet Sauvignon. The result? A rich and juicy red with blueberry and blackberry flavors and even notes of sweet garden mint and eucalyptus.
Find Bogle on Costco's Instacart by clicking here (you will see it is even listed as being vegan-friendly – makes us vegans' lives so much easier doesn't it!)
Are you a white wine-drinking Costco shopper? In that case, this Bottega Pinot Grigio may be the bottle to throw in your cart next time you are doing the rounds at Costco. This Italian Pinot Grigio is earthy with citrus notes as well as pear and apricot notes. This wine would go well with a mushroom pasta dish.
Find Bottega on Costco's Instacart by clicking here.
Next up is a wine from a trendsetting wine brand with a slightly creepy label (take a peek at it). This smooth and balanced red is made from Zinfandel, Cabernet Sauvignon, Petite Sirah, Syrah, and Merlot. It has amazing aromas of raspberry, coconut, and vanilla and flavors of Pomegranate, blackberry, and vanilla.
Find The Prisoner on Costco's Instacart by clicking here.
Daou Cabernet Sauvignon is a great vegan wine available at Costco. This Paso Robles Cabernet Sauvignon is very highly rated – it is bold and structured with all the red berry flavors you could wish for. This wine would go well with a Beyond or Impossible burger.
Find Daou on Costco's Instacart by clicking here.
This is the first time Justin Vineyards has made an appearance here at Vegan Bev HQ (and I am sure it won't be their last). This Sauvignon Blanc is dry, crisp, and medium-bodied with all the citrus, tropical, and herb you could wish for in a Sauvignon Blanc.
Find Justin Vineyards on Costco's Instacart by clicking here.
I have already mentioned on this list a Pinot Grigio and a Sauvignon Blanc but what about a Chardonnay? This option from La Crema Sonoma Coast is a great vegan option from Costco. This La Crema Chardonnay is vibrant and rich with apricot, apple, melon, lemon drop, oak, and spice notes. Would be perfectly paired with a vegan dessert.
Find La Crema Sonoma Coast on Costco's Instacart by clicking here.
I told you this wouldn't be the last time Justin's Vineyards was mentioned here at Vegan Bev HQ. This time it is a higher-priced entry – for that occasion when you want to treat yourself or someone else. This blend is based on Cabernet Sauvignon with Cabernet Franc and Merlot. It comes in the most beautiful bottle too so would make a lovely gift. This is a bold wine with lots of black fruit, red fruit, and oaky notes.
Find Justin's Vineyards on Costco's Instacart by clicking here.
The second Chardonnay on this list. This time from JaM Cellars. This Chardonnay is bold and rich with all the oak, stone fruit, and lemon notes. This Chardonnay is cold-fermented to give it a creaminess.
Find JaM Cellars on Costco's Instacart by clicking here.
Another higher-priced entry on the list is this Cabernet from Groth. Groth's red wines are not fined and are all vegan (yes, wines can be clarified naturally over time or without fining agents). However, note that Groth's white wines are not vegan – that means stick to their red wines only. This bold and structured Cabernet has spent 22 months in barrels. The result? Lots of blackberries and black cherry notes as well as vanilla.
Find Groth on Costco's Instacart by clicking here.
---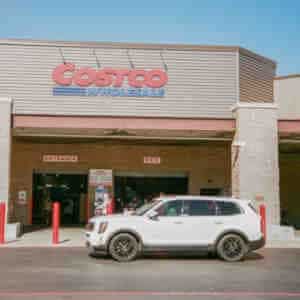 Vegan Wines at Costco – The Final Sip
Vegan Wine at Costco – yes, it is official you can now go stock up on huge amounts of toilet paper, masses of bottles of water…and vegan wine. If you ever needed another reason to go to Costco then there you have it. Plus, if you are lucky all the samples may even be vegan … you know anything is possible. What is my personal go-to on the above list? If I am being completely honest it would be the wine I find myself most often buying – the Bogle. It is a solid red wine good for any day of the week. Now if we could only find a way for Costco to offer a vegan hot dog or just anything vegan from their ridiculously cheaply priced food courts my life would be complete.

…now you know.
Beverage makers may change ingredients and/or manufacturing processes. Always double-check ingredients before purchasing any beverages.
Please Drink Responsibly.
---
Like What You Are Reading
Need to know more? Think your favorite beer or wine is vegan? How about your favorite Vodka, Tequila, or Gin – think those are vegan? Time to find out – check out some of my other articles: