Vegan Drinks at Burger King, Wendy's, Sonic, Sheetz & The Cheesecake Factory. In my previous posts I have covered vegan beverage options at places like McDonald's (see Vegan Drinks at McDonald's – The Complete Vegan Drinks Guide), Panera Bread (see Vegan Drinks at Panera – How To Know What Is Vegan), and Taco Bell (Vegan Drinks At Taco Bell – How To Order Vegan), but what about at other popular restaurant and fast-food chains? What about the vegan drink options at places like Burger King, The Cheesecake Factory, Sonic, Sheetz, and Wendy's? What are the best vegan drinks to order at these chains? Well, that is exactly what I am going to tell you in this post.
Can I get Vegan Drinks at Burger King, Wendy's, Sonic, Sheetz & The Cheesecake Factory?
As a general rule, there are vegan drink options at Burger King, Wendy's, Sonic, Scheetz, and The Cheesecake Factory. Shakes at these chains are not vegan due to dairy. However, Sonic's Slushes can be vegan. The Cheesecake Factory also offers a range of vegan smoothies and non-alcoholic cocktails. All offer sodas, juices, and black coffees which tend to be vegan.
How to read this post?
I have broken up this post into separate sections for each of the five contenders in question: The Cheesecake Factory, Burger King, Wendy's, Sonic, and Sheetz in that order. Simply scroll to the relevant entry you would like to learn about (and yes, I will cover Wendy's Frosties).
1. Best Vegan Drinks at The Cheesecake Factory
I start the list with The Cheesecake Factory and what is officially the "biggest menu" in the world. Literally – in size and in the number of items on the menu. Going off a non-beverage tangent just for a moment…according to Spoon University, there are a host of 14 items you can order vegan on The Cheesecake Factory Menu. Oh, also if you were wondering, no – none of their cheesecakes are vegan. You can order some strawberries without cream as a dessert option though. Just think about how healthy you are.
Now, back to the beverages. What vegan drinks can you get at The Cheesecake Factory?
Vegan Drinks at The Cheesecake Factory
In terms of non-alcoholic vegan drinks, Cheesecake Factory has black coffees, teas, juices, and lemonades on the menu. The real vegan stars of the menu though are their vegan fruit smoothies and non-alcoholic cocktails.
Are The Cheesecake Factory Smoothies Vegan?
All the fruit smoothies at Cheesecake Factory are a great vegan drink option. According to the Cheesecake Factory website the smoothies are just made from juice, fruit, and ice. There are four vegan smoothies to choose from at Cheesecake Factory:
---
| Vegan Cheesecake Factory Smoothie | Ingredients |
| --- | --- |
| Strawberry Fruit Smoothie | Strawberry, orange, coconut, banana & pineapple |
| Tropical Fruit Smoothie | Coconut, pineapple, mango & passion fruit |
| Peach Smoothie | Peach & raspberry |
| Frozen Iced Mango | Mango, tropical juices, raspberry, and coconut |
---
My personal favorite Cheesecake Factory smoothie? The Tropical Fruit Smoothie – I am a sucker for anything with passion fruit in it (there now you know). If Smoothies are not your thing, then the Cheesecake Factory also offers non-alcoholic cocktails. And, yes, there is a Passion Fruit one (I told you I like Passion Fruit…okay).
---
Vegan Non-Alcoholic Cocktails at the Cheesecake Factory
| Non-Alcoholic Cheesecake Factory Cocktail | Ingredients |
| --- | --- |
| Passion Mint Fizz | Passion Fruit, Agave Nectar and Fresh Mint Topped with Soda   |
| Pineapple Cherry Limeade | Pineapple, Cherry, and Fresh Lime Served Cold and Sparkling   |
| Tropical Ginger Cooler   | Island Juices and Fresh Ginger, Topped with a Splash of Soda   |
| Guava Blood Orange Sparkler | Guava, Blood Orange, and Pineapple with Fresh Lime and Soda   |
---
2. Best Vegan Drink at Burger King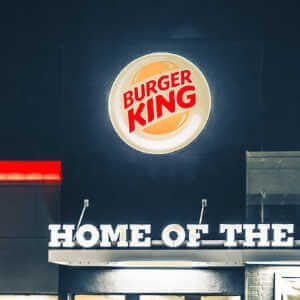 Next on the list is Burger King – one of the first big fast-food chains to offer a plant-based burger option in the form of the impossible burger. So, what drinks are vegan at Burger King?
What Burger King Drinks Are Vegan?
The vegan drink options at Burger King are sodas, juices, iced tea, and black coffee.
Are Burger King Shakes Vegan?
Burger King's shakes are not vegan as they all contain dairy vanilla soft serve. The Burger King shakes cannot be made vegan as Burger King does not currently have a vegan soft serve or milk available.
Is Burger King's Coke Vegan?
Burger King serves Coca-Cola Coke. Coca-Cola Coke is a vegan drink, so Coke ordered from Burger King is vegan. You can read more about it in the post I wrote about whether Coca-Cola is vegan: see Is Coca-Cola Vegan? Secrets To Know About Coca-Cola Drinks.
Is Burger King Iced Coffee Vegan?
Burger King's iced coffee is not vegan as it contains dairy. It is, however, possible to order an iced coffee at Burger King minus milk or creamer – a black iced coffee at Burger King would be vegan.
Best Vegan Drink at Burger King?
What do I personally think is the best vegan drink option at Burger King? It must be the Hi-C Pink Lemonade. Not just confined to baby showers and gender reveals – you can now sip a cup of the sweet pink stuff at Burger King.
3. Best Vegan Drinks at Wendy's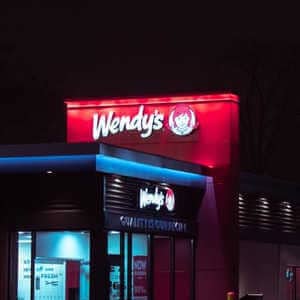 Yes, it is time to talk about Wendy's. That place where the hamburgers are square (and most definitely not vegan). In any event, if you find yourself at Wendy's and need a beverage what are your options? And most importantly are Wendy's infamous Frosties vegan?
Vegan Drinks at Wendy's
The vegan drinks options at Wendy's consist of brewed coffee, iced teas, sodas, juice, and lemonades.
Are Wendy's Frosties Vegan?
Wendy's Frosties are not vegan as they contain dairy. There is also no way of ordering Wendy's Frosties vegan.
Are Wendy's Iced Coffees Vegan?
The vanilla and chocolate Frosty-cinnos are not vegan as they contain dairy. The cold brew iced coffee at Wendy's is, however, vegan.
The Best Vegan Drinks at Wendy's
The most exciting dairy-free drink option on Wendy's menu looks to be the lemonades which come in a variety of exciting flavors.
---
Wendy's Lemonade Flavors
Pineapple mango lemonade  
Tropical berry lemonade
All-natural lemonade
Strawberry lemonade
---
Wendy's Lemonades – A Note on Sugar
The above Wendy's Lemonades do not contain any dairy. They do, however, contain sugar and natural flavors. Sugar and natural flavors are not necessarily strictly vegan.
Natural flavors can be derived from animals or plants. As all the above lemonades are fruit flavored it is extremely likely that the natural flavors are derived from fruits only (for example a "beef" flavored noodle pack or honey-flavored drink containing "natural flavors" would be much more likely not to be vegan – make sense?).
On the sugar front, any sugar that is not marked as raw, beet, or organic could have been processed with bone char. Sadly, it is virtually impossible to know if this is the case. If you are comfortable with the above, then order a lemonade. If not, you may have to stick to black coffee or tea at Wendy's.
4. Vegan Drinks At Sonic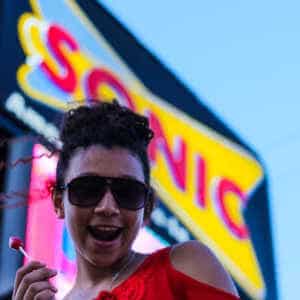 Sonic is the next entry on the list. I could make a really bad '90s joke about a blue hedgehog that has now made it to the big screen, but I won't – I promise. Sonic is known for fast food in a diner-style way. Again, if you are vegan there is not a huge selection of vegan options available for you. But, what about the vegan beverage options? In particular, the slushes at Sonic.
What Drinks Are Vegan At Sonic?
The vegan drink options at Sonic include sodas, juice, iced teas, coffee, and lemonades.
Are The Slushes at Sonic Vegan?
The slushes at Sonic are dairy-free. They come in a variety of flavors such as cherry, cherry limeade, blue raspberry, blue raspberry, mango, peach cranberry, and mountain berry.
I cannot seem to find an ingredient list for the slushes but there is a chance some of them or all of them contain sugar and/or artificial colors (as already discussed above sugar is sometimes processed with bone char here in the US and artificial colors are routinely tested on animals). However, I can't find the ingredients to confirm this.
Sonic does, have a "real fruit" range of slushes which seems like a better option – for example, the lemon slush is made with "real lemon" and the strawberry slush is described on the website as being made from "real strawberries". They may still contain some sugar though.
If you choose to avoid sugar, Sonic does have some sugar-free syrups available that you can add to your drink.
Things to Avoid in Sonic Slushes
If you decide to order a Sonic Slush, make sure not to add in the following (you are able to customize your drink with add-ins at Sonic):
Nerds candy – many of the nerd flavors contain carmine (aka crushed bugs!); and
Cheesecake syrup – I discovered from the Sonic allergen statement that the cheesecake syrup contains dairy.
Are Sonic Blasts Vegan?
Sonic Blasts (thick milk sales-style drinks) are not vegan as they contain dairy ice cream. Sonic blasts cannot be made vegan as Sonic currently does not have vegan ice cream.
5. Best Vegan Drinks at Sheetz
Technically not a restaurant, but a convenience store – but that doesn't really matter. You see for a convenience store Sheetz has a lot of vegan food options – more than some of the other entries on this list. But how about drinks to wash down all that vegan food (this will mostly focus on their coffee options)? For Sodas in general check out my post: Is Soda Vegan? Revealing What You Need To Know.
Vegan Coffee at Sheetz
Sheetz has almond milk available at a $0.59 cent surcharge. Oat milk at Sheetz is a $0.49 cent surcharge (this is interesting as often oat milk is vegan milk with a higher surcharge at a lot of chains).
Sheetz also has espresso-based drinks available so you can grab yourself an oat milk latte or almond milk cappuccino. For a convenience store, it is pretty cool to be able to pick up a dairy-free espresso-based drink (normally black filter coffee is as good as it gets in terms of vegan coffee at convenience stores). One oat milk latte, please.
Oh, and if convenience stores are your thing and you live on the East Coast you can check out my whole post dedicated to Wawa. Check out my post: Vegan Drinks at Wawa – How to Make Your Drink Vegan.
---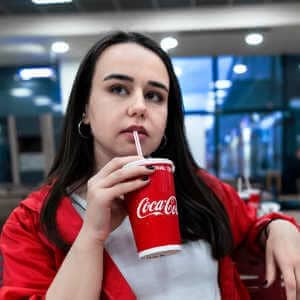 Vegan Drinks at Burger King, Wendy's, Sonic, Sheetz & The Cheesecake Factory – The Final Sip
What have I learned from this article? Well, whilst not all the chains mentioned above may offer the best selection of vegan food options going, they do all offer vegan drinks options. As a general rule, these are all pretty basic offerings. You know the usual contenders – soda (from a fountain machine), juices, and black coffee (with the addition of plant-based milk where offered). If you are looking for something a bit more special or indulgent, such as something like a shake then your best option is something like a Sonic Slush which can be vegan. All the other Shakes from Burger King, Frosties from Wendy's, or Blasts from Sonic are not vegan and can't be made vegan due to dairy. The main good news to take away is that if you visit Cheesecake Factory you can narrow your food choice down to 14 vegan items (that will help with the ridiculously sized menu), order some fresh strawberries (minus the cream) for dessert, and sip it all down with a delicious smoothie or non-alcoholic cocktail. I consider that a win.

…now you know.
Beverage makers may change ingredients and/or manufacturing processes. Always double-check ingredients before purchasing any beverages.
---
Like What You Are Reading
Want to know what is and is not vegan at other coffee chains and restaurants, such as Dunkin' Donuts (including all of their Holiday Drinks), Coffee Bean, Dunkin' Donuts, Peet's, Philz, or Dutch Bros. If you do, then check out my other posts below: