Vegan Non-Alcoholic Drinks – let's face it, sometimes at the end of a long day, you want a drink that is a little bit fancy, but just not alcoholic. This can be because you don't drink alcohol, you drank too much alcohol the day before and just don't want anymore, you are being a responsible designated driver, or you just want to feel fresh-headed the next day (for various reasons…like that day job), you are just trying to be healthier, oh and how could I forget – you are pregnant. You see according to the CDC around one-third of Americans don't drink alcohol. In fact, when it comes to alcohol, statistics have indicated that 40% of adults are drinking less than they were 5 years ago. Whatever your reason, just because you don't drink alcohol doesn't mean you can only have orange juice, soda, or just plain water. Just because you are not "drinking" doesn't mean your drink has to be boring. It is time to give those non-alcoholic drinks out there the Vegan Bev HQ treatment and find out what the vegan non-alcoholic drink options are.
The Good News
There are plenty of delicious vegan and non-alcoholic wines, champagnes, Proseccos, beers, spirits, and even mocktails such as G&T, margaritas, and cosmopolitans available. That means if you are vegan and do not drink alcohol you no longer have to miss out.
*Note: drinks with less than 0.5% alcohol can be labeled as non-alcoholic. The drinks below contain 0.5% alcohol or less.
How Non-Alcoholic Drinks Are Made
When it comes to non-alcoholic drinks it is important to understand the basics of how these types of drinks are made. There are essentially two methods:
1. De-Alcoholisation
In this process, an alcoholic beverage is made and then the alcohol is removed during the production process. This is done by heating the brew and evaporating any alcohol. For example, this is mostly done with non-alcoholic beer. Since alcohol has a lower boiling point than water you can evaporate alcohol by heating the brew to certain temperatures. This is also why labels will sometimes say "non-alcoholic drink contains less than 0.5% alcoholic" – as not all the alcohol is removed during this process.
2. Made from "Scratch"
The second method is by producing a non-alcoholic drink from scratch away from any traditional alcoholic distillation or fermentation processes. This will typically involve the use of juices and flavorings (both natural and artificial) to recreate an "alcoholic flavor". A good example of this is Lyre which is mostly a water-based "non-alcoholic sprint" using flavorings to recreate traditional spirits.
Vegan Non-Alcoholic Drinks Covered
In the piece I will cover the following categories of non-alcoholic drinks:
Vegan Non-Alcoholic Wine
Vegan Non-Alcoholic Champagne
Vegan Non-Alcoholic Beer
Vegan Non-Alcoholic Spirits.
Vegan Non-Alcoholic Cocktails (the "mocktail")
---
Vegan Non-Alcoholic Wine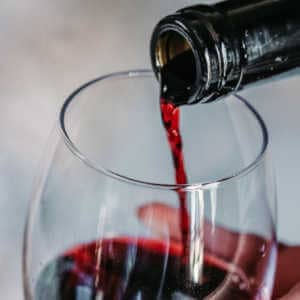 Non-Alcoholic Wine exists, and no it is not just some type of grape juice.
Non-alcoholic wine is usually produced by removing alcohol from alcoholic wine. This alcoholic wine will still have been through the usual fining process, potentially involving non-vegan fining agents (you can read more about why the wine fining process often isn't vegan here – Why Is Wine Not Vegan – How To Know The Truth). This means that even if it is labeled as non-alcoholic the wine you are drinking still may not be vegan.
Fear not though, whether you are a red, white, or rose wine drinker there is a vegan non-alcoholic wine out there for you.
Vegan Non-Alcoholic White Wine
This St. Regis non-alcoholic chardonnay is Amazon's number 1 best seller in the white wine category. You can still experience all the pear, apple, and oaks notes minus the alcohol. St. Regis wines may not be vegan certified, but they do not use animal-derived ingredients or animal products in the production process.
Find it on Amazon by clicking on this link here.
Vegan Non-Alcoholic Red Wine
More of a red wine drinker? If so, St. Regis also does this non-alcoholic cabernet sauvignon – find it on Amazon by clicking on this link here. This cabernet promises notes of spice, mint, ripe plums, and blackcurrant.
Vegan Non-Alcoholic Rose Wine
Ah rose, that wine you drink when it is hot out with some ice cubes…or when you aren't in the mood for red or white. This Chile brand Sinzero rose provides notes of strawberries, cherries, and blackberries. They even promote the fact it is vegan in their Amazon title – that is what we like to see!
Find it on Amazon by clicking on this link here.
---
Vegan Non-Alcoholic Champagne
Do you have a celebration you want to raise a glass of vegan non-alcoholic bubbles at? Fret not, Fre have you covered.
Fre claims its sparkling Brut is the best non-alcoholic Brut on the market. It promises a "fragrant bouquet of green apple and ripe pear balanced by a crisp palate of apple and strawberry…". The good news as well is that according to Barnivore all Fre alcohol removed wines are vegan.
Find it Fre on Amazon by clicking on this link here.
Vegan Non-Alcoholic Sparkling Rose
Are you more of a sparkling rose fan? Then Surely have you covered with their sparkling rose made from grapes from Californian vineyards. Surely shout about the fact their wines are both vegan and keto in their Amazon listing. They also have the benefit of no added sugar.
Find Surly on Amazon by clicking on this link here.
Vegan Non-Alcoholic Prosecco
Do you like your bubbles to hail from Spain? Then enter St. Regis yet again with this vegan non-alcoholic "secco". This is made in Spain and provides notes of nutmeg, fruit, and white flowers!
Find St. Regis Secco on Amazon by clicking on this link here.
---
Vegan Non-Alcoholic Beer
Ah, Beer. For some reason when it comes to beer I, personally, feel the non-alcoholic options come the closest to drinking an alcoholic beer. When I want to have a non-alcoholic drink, a non-alcoholic beer will usually be my go-to.
A point to note, like with wine above just because beer is non-alcoholic it doesn't mean it will be vegan. Like with a lot of non-alcoholic drinks, beer usually has its alcohol removed by heating the brew. This means the beer is still made in the traditional way and as such may still be treated and fined using non-vegan fining agents. If you want to learn more about beer fining agents – what they are and why they are not all vegan-friendly read my post: Is Beer Vegan? Introducing the Secret to Finding Out.
Here are three of my favorite vegan non-alcoholic beer brands to choose from.
1. Athletic Brewing Company Vegan Non-Alcoholic Beer
Athletic Brewing Company shouts about the fact their vegan non-alcoholic beers are made from just four ingredients- water, hops, barley, and yeast.
Find Athletic Brewing Company on Amazon by clicking on this link here.
The above Amazon link is for a variety pack of four of Athletic Brewing Company's non-alcoholic organic beers – All Out, Upside Down, Run Wild, and Cerveza Atletica. Their All Out is a "soul-warming" stout that delivers notes of coffee and bittersweet chocolate. Upside Dawn is "refreshing, clean, balanced, light-bodied". Run Wild is a bitter and malty IPA. Cerveza Atletica is a refreshing Mexican Light Copper.
Most importantly, Athletic Brewing Company's non-alcoholic beers are also vegan.
2. Bravus Non Alcoholic Blonde Ale
Is Blonde Ale your thing? Then check out this Bravus non-alcoholic blonde ale – it is light and refreshing with notes of banana (yep, banana). Bravus even promote the fact their blonde ale is vegan in the listing title.
Find Bravus on Amazon by clicking on this link here.
3. Wellbeing Brewing Co Non-Alcoholic Hellraiser Dark Amber
More of a dark amber fan? Then Wellbeing Brewing Co Hellraiser Dark Amber is a must-try. It is the number 1 rated non-alcoholic craft beer on Untappd. It also has the benefit of being high in polyphenols, which are essentially antioxidants and anti-inflammatories. This may be why Wellbeing Brewing Co claims their beers are "the healthiest beer on Earth". Like the sound of this? Wellbeing Brewing Co also has a vegan Golden Wheat. Note that Wellbeing Brewing Co's Coffee Cream Stout is not vegan as it contains lactose.
Find Wellbeing Brewing Co on Amazon by clicking on this link here.
---
Vegan Non-Alcoholic Spirits and Liquor
Out of wine, beer, and spirits, spirits are the most likely out of the three drinks to be vegan – you can read more about it in my post:  Is Liquor Vegan? How To Actually Pick Vegan Liquor. However, not all non-alcoholic spirits are necessarily vegan, especially if you are a vegan who avoids sugar. Ritual Zero Proof for example has the following statement on its website – "we are not a certified vegan product because we use traditional sugar."
Here are three non-alcoholic spirits brands that proudly boast to be vegan.
1. Seedlip Non Alcoholic Spirits
Seedlip has brought us the World's first distilled non-alcoholic spirit. Each flavor is made from 6 botanicals and spices.
Seedlip comes in three varieties:
Seedlip garden 108 which is herbal with peas, spearmint and rosemary ingredients.
Seedlip grove 42 which is citrusy with ingredients of orange, ginger and lemongrass.
Seedlip spice 94 is aromatic with allspice berry, ginger and grapefruit.
I know which for sure would be my choice – Seedlip grove 42. Note Seedlip isn't meant to be drunk straight – it is meant to be mixed with a mixer to make a mocktail. Seedlip has lovely-sounding mocktail recipes on their amazon listings such as Grove Ginger Highball. Seedlip also goes extremely well mixed with tonic (think G&T vibes).
You can buy a trio bundle of all three Seedlip drinks from Amazon by clicking on this link here.
Also, 1% of global annual revenues of Seedlip sales go to environmental charities dedicated to celebrating and protecting the planet. Seedlip is vegan-friendly – they state that they do not use any animal derivatives in our production and distillation processes.
Seedlip even has a beautiful gift box consisting of three small bottles of their three drinks. If you are looking for a lovely gift for somebody who is vegan and doesn't drink this could be perfect. Or you could just get it for yourself. Either works.
2. MONDAY Zero Alcohol Whiskey
What if you are more of a dark spirit fan, for example, do you like to drink whiskey? Don't worry MONDAY Zero have you covered with their vegan non-alcoholic whiskey.
Find MONDAY Zero Brewing Co on Amazon by clicking on this link here.
MONDAY Zero alcohol whiskey is handcrafted in small batches in a Southern California craft distillery by an award-winning Bourbon maker. It promises notes of rich butterscotch, raisin, burnt brown sugar, coffee, caramel, molasses, and orange. It comes in a beautiful box and the bottle itself is beautiful so it would make a lovely gift for a lucky friend. Their Amazon listing promotes the fact it is vegan as well. A big thumbs up.
MONDAY ZERO also has a non-alcoholic gin too.
3. Lyre's Spirit Co
Lyre offers a full range of non-alcoholic sprint drinks. First, love the name. Second, love Lyre's response to whether their spirits are vegan:
"Absolutely. The only animals featured here are our beloved social animals depicted on our labels. We use all-natural, plant derived essences, extracts and distillates that deliver bouquet and flavor throughout our range."
The highest-rated Lyre spirits are the Amaretto Style, White Rum, Aperol Style, Aperol Style, Dry Vermouth, Triple Sec, and Coffee Liquor. Lyre literally has a non-alcoholic version of almost every spirit you can imagine. And yes, the bottles with their beloved animals are also very beautiful.
Find Lyre on Amazon by clicking on this link here.
---
Vegan Non-Alcoholic Cocktails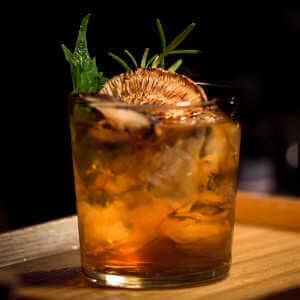 It is time to talk about the "mocktail". To make yourself a delicious vegan non-alcoholic cocktail you can obviously use one of the above spirits and mix it with a vegan mixer. There are a whole host of pre-made non-alcoholic mixers on the market – they are usually designed to be mixed with alcohol. However, you can still use them by substituting them with any vegan non-alcoholic spirit mentioned above for the same effect. Whether your choice is a pre-made mixer or just something as simple as a soda, both will work to create a great vegan mocktail.
 Oh, and if you want to know if your favorite soda is vegan you might want to check out my following posts (SPOLIER ALERT – you may be shocked when it comes to your favorite cola):
If you are lazy and looking for a simple option (who isn't). Here are three pre-made cans or bottles you can choose from:
1. Mocktails Non-Alcoholic Cocktails
Mocktails, the brand that got the name "Mocktails" on their bottles. Literally surprised they got to use that name (good for them). They offer a variety of mixers coming in flavors such as vegan Cosmopolitans, Margaritas, Sangrias, or Moscow Mules.
Find Mocktails on Amazon by clicking on the link here.
2. Lyres Non-Alcoholic Ready-To-Drink Cans
Lyres also do a range of pre-made cans you can choose from. Not only are they pretty great-looking they are offered in three classic varieties:
G&T – Your classic G&T alternative with juniper and citrus flavors.
Classico – green apple tartness followed by pear, peach, and red apple flavors.
Amalfi – sunshine in a can with flavors of bittersweet orange, peach, rhubarb, and elderflower.
Find Lyres on Amazon by clicking on the link here.
3. Mingle Mocktails
Mingle Mocktails come in some incredible sounding flavors such as blackberry hibiscus bellini, cranberry cosmo, cucumber melon mojito, and blood orange elderflower mimosa. Mingle mocktails use organic cane sugar to sweeten and are vegan (if sugar is labeled as organic you can rest assured that bone char hasn't been used to process).
Find Mingle Mocktails on Amazon by clicking on the link here.
---
Vegan Non-Alcoholic Drinks – The Final Sip
Vegan Non-Alcoholic Drinks – okay so if this was like 20 years ago your non-alcoholic options would have been something orange juice related – at its most fancy a cranberry and orange juice (maybe with some sparkling water to make it fancy). And that would have been it. The world is changing and so is taste. Not only is demand for non-alcoholic drinks increasing but so is veganism. This means that nowadays after a long day or on a special occasion you can treat yourself to something that feels more indulgent and "special". Something you can savor and enjoy over a longer period. Something that doesn't leave you feeling left out or left with a hangover.

…now you know.
Beverage makers may change ingredients and/or manufacturing processes. Always double-check ingredients before purchasing any beverages.
---
Like What You Are Reading?
Like what you are reading? Want to know if your favorite coffee or orange juice you grab each morning is vegan? How about that go-to energy drink or soda – think those are vegan? Find out the answers in Vegan Bev HQ's other articles below: