Best Vegan Kefir Drinks – in this post I am going to share the best vegan "kefir" drinks available, including a vegan Kefir drink you can make in your own home. Kefir, pronounced kuh·feer, is traditionally associated with yogurt and dairy-based drinks and products, but as I will discuss it can also be used to make some great vegan drinks. Becoming more and more popular in vegan circles Kefir is a great source of probiotics. So, stand back and get ready to be amazed because we are about to talk about how something traditionally not vegan can be made vegan. But, first, you are probably wondering what vegan kefir products are even available:
What Vegan Kefir Drinks Are Available?
As a general rule, vegan kefir can be made by fermenting water, coconut water, juice, or vegan milk. The best vegan kefir drinks include Kevita Sparkling Probiotic Drink, Siggi's Plant-Based Coconut Probiotic Drink, Forager Probiotic Yogurt Drink, Inner Eco Dairy-Free Kefir, and Anvil Plant-Based Kefir Starter Kit.
---
---
Everything You Need To Know About Kefir
What Is Kefir?
What is Kefir? Good question. Kefir is traditionally fermented dairy milk (usually from cow, sheep, or goat's milk). Kefir has a sour taste due to the fermentation. Kefir contains about 30 species of probiotics which are good for gut health and for aiding digestion.
It traditionally can be confused with Kombucha which involves the fermentation of tea. However, Kefir is different from Kombucha. Kefir focuses on the fermentation of "milk" bases, whereas Kombucha focuses on fermented tea bases and so contains caffeine. Kefir originated from the Northern Caucasus region of Russia and became popular in the 1960s.
Kefir is different from kombucha as kombucha is fermented tea using a SCOBY (symbiotic colony of bacteria and yeast). As it is also made from tea it contains caffeine. You can read more about whether kombucha is vegan here – Is Kombucha Vegan? The Complete Facts You Need To Know.
Is Kefir Vegan?
"Hold on a second, Kefir does not sound vegan friendly at all. Why are you even talking about it?". If you are thinking this right about now don't worry your vegan "spider-sense" is not broken.
You are right.
Traditionally Kefir is not vegan, as it is made by fermenting dairy milk (usually cow, sheep, or goat's milk) using Kefir "grains" (symbiotic colonies of bacteria and yeast in a protein and lipid matrix) – slightly different from the SCOBY used in Kombucha.
Is There a Vegan Alternative To Kefir?
There are vegan alternatives to Kefir where a non-dairy liquid such as vegan milk, water, or juice is fermented instead of dairy milk.
Does Non-Dairy Kefir Contain Probiotics?
Non-dairy kefir contains just as many probiotics as dairy kefir.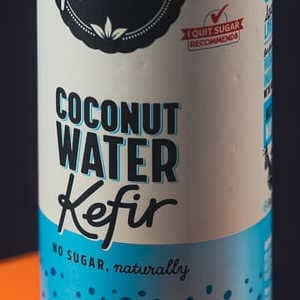 Types of Vegan Kefir Drinks
There are commonly 5 types of vegan Kefir drinks:
Kefir Water
Coconut Kefir Drinks
Cashew Kefir Drinks
Coconut Water Kefir
Home Juice Kefir Drinks
I will list some of my personal recommendations for each category below.
Best Water Kefir Drinks
One vegan Kefir alternative is water Kefir drinks. This is essentially when water is fermented instead of dairy milk.
KeVita is a brand that is leading the way with water-based Kefirs with their Sparkling Probiotic Drinks range. These sparkling probiotic drinks are made with a water Kefir culture.
Kevita sparkling probiotic comes in a range of the following flavors:
Kevita Lemon Ginger is light and refreshing. Think gingery heat and tangy lemon. You can treat yourself to a bottle from Amazon here.
Another light and refreshing water kefir. You can try a bottle of this drink that gives "a cool burst of mint with a twist of lime" from Amazon here.
Kevita's Lemon Cayenne water kefir is sweet and spicy as well as refreshing and light. You can treat yourself to a bottle from Amazon here.
Kevita's apple cider vinegar tonic is essentially water Kefir culture with apple cider vinegar. You can try a bottle of this sweet and tangy probiotic drink from Amazon here.
Best Coconut Kefir Drinks
Another vegan Kefir alternative is coconut Kefir drinks where coconut milk is fermented instead of dairy milk.
I am sure you have heard of Siggi's yogurts. Well, this is Siggi's plant-based cousin – their probiotic coconut yogurt in peach. You can pick up a bottle from Amazon here.
Siggi's are proud to shout about the fact that there is more protein than sugar in the bottle – 8g of protein and 7g of sugar. Made from just 9 ingredients, including macadamia nuts and of course coconut milk.
Best Cashew Kefir Drinks
Forager drinkable cashew milk probiotic yogurt drink is organic and comes in a range of delish sounding flavors – mango, blueberry, blackberry, and strawberry. You can choose which flavor you would like via Amazon here.
Note that Forager is mainly made of cashew milk but does also contain coconut.
If you are watching your sugar content, or just like your vegan kefir unadulterated, Forager also has an unsweetened plain version you can buy from Amazon here.
Best Coconut Water Kefir
8. Inner Eco Tropical Dairy-Free Probiotic Kefir
Inner Eco is an awesome drinks brand that makes its Kefir from not coconut milk, not even water, but coconut water. Their drinks help support your body's inner ecology.
Inner Eco comes in original unsweetened, blueberry blackberry, mango pineapple, and vanilla bean.
You can treat yourself to the mango pineapple on Instacart here.
Best At Home Juice Based Kefir Kit
Another way of making vegan Kefir is by using juice. You can buy this plant-based kefir starter kit on Amazon here and use it to make vegan Kefir juice at home.
This at-home plant-based Kefir kit will produce 13 quarts of juice Kefir. It works best with sweet juice like apple or pear (rather than citrusy juices like oranges, etc.).
---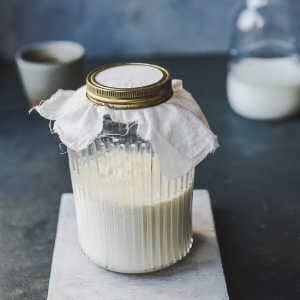 Best Vegan Kefir Drinks – The Final Sip
Vegan Kefir – Kefir is something I constantly see popping up in grocery stores like Whole Foods or Erewhon (I even have come across Kefir Ice Cream). To be completely honest, it was just something I always associated with dairy and so just thought anything with "kefir" on the bottle just was not vegan. If you are to take one thing away from this piece it is that Kefir can be vegan. There is a whole host of Kefir vegan-friendly products available which give you the same benefits of Kefir (i.e. the Kefir fermentation process) but without any dairy. My personal favorite is the coconut water-based Kefir drink. I am personally a bit lover of coconut water so with the added benefit of Kefir this is my go-to drink.
If you love Kombucha then maybe vegan Kefir is also for you.

…now you know.
Beverage makers may change ingredients and/or manufacturing processes. Always double-check ingredients before purchasing any beverages.
Please Drink Responsibly.
---
Like What You Are Reading
Want to know what is and is not vegan at other coffee chains and restaurants, such as Dunkin' Donuts (including all of their Holiday Drinks), Coffee Bean, Dunkin' Donuts, Peet's, Philz, or Dutch Bros. If you do, then check out my other posts below: