Vegan Boxed Wines – step 1 find a box. Step 2 -fill that box with vegan wine. Step 3 – never run out of vegan wine ever again. Okay, maybe it doesn't quite work like that, but today we are going to talk about boxed wine – loved by crazy Aunts and budget parties the world over. Despite wine having the reputation for "not being that great" when it comes out of a box – boxed wine really has come a long way. You can find great wine in a box that's also vegan. Plus, one of the great advantages of boxed wine is the cheaper price point for the quantity (you can get a lot of wine in a box). For example, the average box of wine comes in 3-to-5-liter boxes and costs around $15. This makes the average cost per glass of wine (approximately) $0.50ish a glass.
Okay, so boxed wine is a great bargain, but can you get vegan boxed wines, and, if so what are they? Time to find out in the Vegan Bev HQ complete guide to boxed wine.
Vegan Boxed Wine – What Is Available
There are vegan red boxed wines available from Our Daily Wines, Wine Cube, Brown Box, Big Sipper, and Trader Joe's Block. There are also vegan white boxed wines available from Brown Box and Trader Joe's Block, as well as a vegan rose boxed wine from Wine Cube.
Summary Table – Vegan Boxed Wines
---
---
Vegan Boxed Wines – When do you need a boxed wine
Having taken a lot of time to sit down and think about this, I realized there are a whole bunch of situations where life calls for boxed wine. For example:
You are in college (and of legal drinking age) and on a budget,
You are hosting an event/part and what to keep the drinks bill down whilst keeping everybody happy, and/or
You just want an everyday wine you can have a glass of whenever you want without having to fumble around for a corkscrew or worry about running of out wine or spending lots on different bottles.
See I told you there are many situations in life that call for boxed wine. I firmly fall into the third category. But, how about a vegan boxed wine? Do they even exist?
Vegan Boxed Wines – Do They Exist?
Yes, as you will have seen from the summary table above, there are a small number of vegan boxed wines available on the market. In this post, I will present you with five boxed wines you need to try, including a look at whether some of the biggest boxed wine brands out there are vegan or not.
5 Vegan Boxed Wines – You Need To Know About
I have talked about Our Daily Wines a few times before here on Vegan Bev HQ (see my post: 10 Vegan Wines at Costco You Need To Know About). They deserve another mention because all Our Daily Wines are vegan and labeled as such. They even have a whole vegan section on their website stating the following:
"Our Daily Wines are vegan friendly and do not contain any animal-derived ingredients or dairy products. Unlike some conventional winemakers, we do not use fining agents such as egg whites, gelatin, casein (milk protein), or isinglass in the processing of our wines."
Our Daily Wines box comes in a 1.5-liter offering. All their boxed wines are USDA Organic certified and are stated to still deliver the same "pure, genuine flavor of its bottled counterparts". Their wines also don't contain any detectable sulfites which is a nice touch. But, it doesn't just stop there. No. Our Daily Wines also list the following benefits of their boxed wines on their website:
"- Keeps wine fresh for up to 4 weeks after opening
– Conveniently portable for any indoor or outdoor occasion
– Lighter weight packaging means smaller carbon footprint
– Box is recyclable"
I guess reading this list makes me realize I may have missed a few reasons for drinking boxed wine off my above list – namely – small carbon footprint, low waste, and convenience for outdoor occasions. However, that said, if boxed wine really is not your thing, then you can also get both their Cabernet Sauvignon and Red Blend in traditional glass bottles.
You can buy Our Daily Wines boxed wine from Bevmo (through Instacart) here. Also, if you would like to find out what other wines are vegan at Bevmo you can read my post: Vegan Wines at BevMo You Need To Try.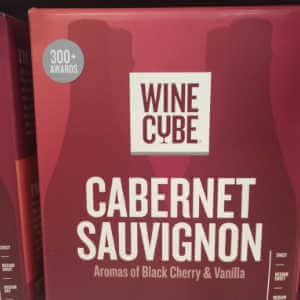 According to Barnivore.com, the following Wine Cube wines are vegan (as at 1 January 2022):
However, the following Wine Cube wines are NOT vegan:
Chardonnay
Pinot Grigio
Sauvignon Blanc
Moscato
Pink Moscato
Riesling
Malbec
What is the main takeaway from these lists? If you are a red wine drinker (other than Malbec) or a plain Rose drinker then you are in luck when it comes to Wine Cube's boxed wines. However, if you are a Malbec or White Wine drinker then you are going to have to find another boxed wine brand. But, hey, 7 out of 14 boxed wines is not bad.
Wine Cube has also won over 300 awards, which can prove to show that boxed wines can just be as good as their bottled counterparts.
My personal Wine Cube choice? Wine Cube's Cabernet Sauvignon. I find Cabernet Sauvignon is a great easy drinking everyday red. You can buy Wine Cube Cabernet Sauvignon from Drizly by clicking here.
Wine Cube comes out at around $18 for a 3-liter box. That is the equivalent of 4 bottles of wine at $4.50 each.
"Browned Box Boxed" wines – try and say that 10 times fast. The good news is that all Brown Box boxed wines (Merlot, Chardonnay, Cabernet Sauvignon, and Riesling) are vegan according to Barnivore (as of 1 January 2022).
Out of all these, my choice would be the Riesling (my favorite white wine) – you can try a box via Instacart here. It's unusual to find a vegan boxed white wine let alone a vegan boxed Riesling. Honey, apricot, caramel, melon, tropical fruits, and banana galore – what's not to love? And fear not although there are honey notes it does not contain honey – it is obviously vegan (or it wouldn't make it onto this list!!).
If you fancy trying Brown Box but you are more of a chardonnay fan then you can try their chardonnay from Instacart here.
The main thing to note about Big Sipper Boxed wines is that it is only their red wines that are vegan. Big Sipper White Blend boxed wines are not vegan (those use milk in the fining process) according to Barnivore.
Why Is It Harder To Find Vegan White Wines?
Reading this list and my other wine posts, you may have noticed that is it harder to find white vegan wines than vegan red wines. Why is this? Well, it is because in white wines there are fewer places for molecules to "hide" than in red wines. The result is that white wines tend to use fining agents more than red wines. In comparison, it is more acceptable to have a cloudy un-fined red wine than a cloudy white wine (we as consumers expect our white wines to be crystal clear).
Now that we have covered that, back to Big Sipper. Big Sipper's sweet red blend is a Californian wine, and it provides all the red and blackberry notes you would hope for in a red blend. You can purchase it from Instacart here.
No.5 Trader Joe's Block Pinot Grigio
As I mentioned above it can be a lot harder to find vegan white wine than it is to find vegan red wine, so to end the list I wanted to share a vegan white boxed wine. Enter Trader Joe's boxed vegan Pinot Grigio. All the melon flavor, floral vibes, and not too sweet – what more could you wish for in a white vegan boxed wine? As Trader Joe's doesn't sell online or on Instacart you will have to visit your local Trader Joe's to find one.
Please note that according to Barnivore, Trader Joe's Block Chardonnay and Red Shiraz are also vegan but their Cabernet Sauvignon is not vegan (as of 1 January 022). As I mentioned, Trader Joe's does not sell online, but boxed red wine lovers rejoice – I managed to find Trader Joe's Block Shiraz available on Drizly. If it is the pinot grigio or chardonnay you are interested in you will have to pay Trader Joes a visit.
If you would like to read more about what wine is vegan at Trader Joe's you can here: 10 Vegan Wines at Trader Joe's You Need To Try.
Vegan Box Wines That Are NOT Vegan
You may have noticed from the above list that none of the bigger boxed wine brands made the list. Why? Well, this is because…they are not vegan. To help you out as much as possible here are a few of the bigger boxed wine brands out there that are not vegan.
Is Franzia Boxed Wine Vegan?
Having been around for over a century, Franzia must be the World's most well-recognized boxed wine as well as the most synonymous name in the boxed wine arena. Franzia also has a fantastic slogan "Franz for life." But the important question: "is Franzia Boxed Wine vegan?".
Franzia uses gelatine fining agents and casein in the production of their wines, making Franzia wines not vegan.
Is Bota Box Wine Vegan?
Bota Box Wines are not vegan, as Bota Box Wines may be filtered using non-vegan fining agents.
Is Black Box Wine Vegan?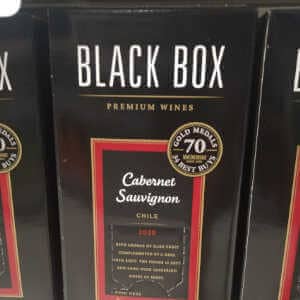 Black Box Wines are not vegan, as Black Box Wines may be filtered using non-vegan fining agents.
---
Vegan Boxed Wines – The Final Sip
Boxed wines offer a great alternative to bottled wines. More economical, eco-friendly, and budget-friendly, these wines are perfect for occasions where you need to serve a lot of people or just want to have a steady supply available at home. What's the main disadvantage? Well, if you pick a wine you don't like then you may be drinking it for a while. Boxed wines just don't let you sample and try different things as much as their bottled alternatives. But, hey, at least your boxed wine will be vegan.

…now you know.
Beverage makers may change ingredients and/or manufacturing processes. Always double-check ingredients before purchasing any beverages.
Please Drink Responsibly.
---
Like What You Are Reading
Need to know more? Think your favorite beer or wine is vegan? How about your favorite Vodka, Tequila, or Gin – think those are vegan? Time to find out – check out some of my other articles: