Vegan Rosé Wines – it's time to talk about that third option in the grocery wine aisle. It's not red, it's not white, it's pink. In fact, it is Rosé – Jeremy Clarkson's favorite type of wine (as he affectionately calls it "lady petrol"). When it comes to wine red remains the most popular with American wine drinkers – 69% of wine drinkers say they will drink it (YouGov). What about when it comes to Rosé? Well, according to YouGov 55% of American wine drinkers say they like Rosé wine. In fact, the IWSR, Rosé wine volume sales in the US have increased 118% from 2015-2020. This is in comparison to wine overall which has grown only 1.5%. There is one exception – unlike other wines Rosé is a much more seasonal wine. People flock to it in the warmer summer months and forget about it in the colder winter months. Something, I can personally attest to. That doesn't mean you can't drink Rosé all year round, but it does beg the question: What is Rosé, is Rosé vegan (very important), and what are some vegan Rosé suggestions? Oh, and if you want to know what temperature to drink Rosé you will have to read to the bottom of the article.
Is Rosé Wine Vegan?
There are a whole host of vegan Rosé wines on the market – most of which are available from the major grocery chains. From organic to sparkling to boxed vegan Rosé there is a Rosé wine for you and for every budget.
What is the Difference Between Rosé and Other Wines?
Rosé is a type of wine made from red grapes. To this extent, it is the most like red wine production. In normal red wine production, the dark skin of the grapes is fermented with the grapes' juice. The result is a red-colored wine. In Rosé production, the wine is exposed to the grape skins for a much shorter period of exposure. The result is a lighter pink coloration and flavoring.
The grapes are juiced and left to macerate with their skins for a period of one to two days. After which the skins are separated from the juice. The final juice mixture will then be a pink color. The longer the maceration the darker in color the Rosé wine.
Can Rosé Wines Be Vegan?
First, a little recap. In my previous post, Why Is Wine Not Vegan – How To Know The Truth I talked about everything a vegan needs to know about wine. To give you a quick recap: most wines are not vegan. This is due to the common use of non-vegan fining agents (such as Isinglass, Egg albumin, and Milk Proteins) in the clarification process. Fining agents are added to wines during clarification to clump together unwanted molecules, such as excess yeast and tannins which can then be easily removed during the filtration process.
And, yes, whilst there are vegan fining agents available the most used remain the non-vegan versions. The same is true when it comes to Rosé wines.
How Can I Make Sure My Rosé is vegan?
"How can I make sure the Rosé I buy is vegan?". Now that is a great question. Wine labeling laws mean that winemakers are not required to list ingredients or fining agents used on wine bottles. This can make it nearly impossible to know what wines are and what wines are not vegan. Some good news is that winemakers are increasingly labeling their wines as "vegan" or "non-fined". Sadly, the majority continue not to put anything on the labels. That's why I wanted to put together the list of vegan Rosé wines for you below (to help make life as simple as possible).
Some Other Common FAQs on Rosé Wines
Are Blush Wine and Rosé the Same?
Blush wine is not the same as Rosé wine. Blush wines are a combination of red and white wine mixed. Rosé is grape juice that has been macerated with dark grape sinks for short periods of time before fermentation.
What About Rosé Champagne or Pink Champagnes?
Pink or Rosé Champagnes are not "Sparkling Rosé" champagnes. Instead, they tend to be "champagne" style wines blended with red wine. If you want to learn more about Champagne and whether it is vegan, check out my post: Is Champagne Vegan? Revealing the Truth Behind the Bubbles.
Types of Rosé Wines
Rosé wines can come in from blends of grapes or from a single type of grape. The most popular type amongst Rosé drinkers is the Zinfandel Rosé. There are various styles of Rosé wine. The most popular, and those you are most likely, to see in the grocery or liquor stores are:
10 Vegan Rosé Wines – Summary Table
Below is a summary table of my choice of the best 10 vegan Rosé wines on the market today. I have tried to pick Rosé wines that you should be able to easily find in grocery and liquor stores. I also tried to provide a selection of different types of Rosé Wines.
---
---
10 Vegan Rosé Wines – Item-By-Item
Probably the best Rosé wine bottle packaging on the list, Yes Way Rosé offers various styles of Rosé wines (including in cans, Rosé Champagne, and Spritz) – my personal favorite and the one I am including in this list is their original Rosé bottle. A Provencal-style rose from the South of France has a great combo of strawberries, citrus, and stone fruits. A solid Rosé for a Summer's Day.
You can order Yes Way Rosé via Instacart here.
Yes Way Rosé also made it onto the list of best vegan wines at Walmart so if you what to find out what the other vegan wines are at Walmart you can here: Introducing The 10 Best Vegan Wines At Walmart.
At entry number two is the only boxed Rosé to make the list. I personally am I huge fan of boxed wines. They offer a more eco and budget-friendly way to enjoy certain wines. This Rosé from Wine Cube has notes of "raspberry, fresh watermelon fragrance, lush wild berry, citrus and tropical fruit flavors". If you want to learn more about boxed vegan wines, I wrote a separate article for them: 5 Vegan Boxed Wines You Need To Try (& Those To Avoid).
You can buy Wine Cube Rose from Drizly here.
Whilst on the topic of Target, at entry number three comes Target's exclusive range of vegan wines – California Roots. Yes, you read that correctly. But wait, it gets even better – California Roots are priced (at the time of writing) at only $5 a bottle.
California Root's Rosé is medium-dry with fresh berry aromas and citrus flavors. As I can attest to, it goes great with a spinach salad on a hot day. You can get a bottle of this pink delight delivered directly to your door via Saucey here.
You can learn more about California Roots and this Rosé in my post: 15 Vegan Wines at Target You Need To Try.
An organic blended Rosé made from Grenache, Cinsault, Caladoc, Syrah, and Cabernet grapes, this Rosé is light and fresh with hints of melon and zest notes. Avaline states that this wine pairs well with "the warmth of the sun and the company of your what friend".
You can buy Avaline Rosé from Instacart here or in-store from Sprouts. Also, if you want to learn about the best vegan wines at Sprouts then check out my post: The Best Vegan Wine at Sprouts.
Menage a Trois has made a few appearances on this blog, so it had to be included for their Rosé. A solid no nonsense Rosé heavy on fruity flavors and a smooth finish. Think raspberries, strawberries, and lychee. This Californian Rosé is made from a blend of Merlot, Syrah, and Gewurztraminer grapes.
You can buy a bottle on Instacart here.
As the name suggests, this Rosé from Innovacion is a blend of Malbec and Syrah grapes. It is also completely vegan and made from sustainably farmed grapes. The flavor profile is crisp, dry, and fruit-forward. A lighter Rosé, this wine is good for all occasions. The bottle is also available in larger 1 Liter formats as well if you are hosting larger events.
You can buy it from Whole Foods Market via Amazon here.
If you are also interested to know what other vegan wines are available from Whole Foods Market, then check out my post: 10 Vegan Wines at Whole Foods You Need To Know.
7. De Mont Coteaux Varois en Provence Rosé
The second Provence Rosé on the list is this time from everyone's favorite grocery store – Trader Joe's. This Rosé is made from organic grapes and is completely vegan thanks to no fining agents being used in its production (if you want to read about how fining agents are often not vegan you can here:  Why Is Wine Not Vegan? How To Know The Truth).
As Trader Joe's does not sell online or via Instacart you will have to visit Trader Joe's to pick up a bottle of this (any excuse).
You hear adverts for it on the radio, you see the billboards for it when you are driving (at least I do in Los Angeles), that's right it is time to talk about Stella Rosa. Despite being one of the most heavily marketed wines on the market, most Stella Rosa wines are also vegan.
The Rosé from Stella Rosa has flavors of rose petals and wild mountain berries. It also states that the Rosé (wait for it) has "sweetness and an equal balance of grace, beauty, and peace". They are Stella Rosa's words, not mine. In terms of pairing, Stella Rosa recommends drinking this with a red velvet cake. Breaking the "beverages only" theme of Vegan Bev HQ for just one second here – my personal go-to vegan red velvet cake is Rubicon's Red Velvet Cake (so good).
You can pick up a bottle of Stella Rosa Rosé to pair with it here from Instacart here. 
The next entry is from an awesome all-vegan vinery that has made a commitment to making sure all their wines are vegan. They are also America's first organic and biodynamic vinery – so definitely a great company to support.
This vegan Rosé from Frey is a light, dry and crisp wine with aromas of fresh strawberries, wild roses, and crisp raspberries.
If you want to read more about Frey's commitment to vegan wines you can do so here.
You can buy a bottle of Frey Rose Wine from Organic Wine Exchange here.
The final entry on this list is bought to you by Bellissima and is a sparkling Rosé. Made from Pinot Grigio grapes this sparkling Rosé has hints of strawberry and grapefruit with a soft and consistent sparkle and foam.
Bellissima in Italian means "most beautiful". Bellissima is organic (that is what we like to hear), sparkling, AND certified vegan. Most beautiful indeed. A great option for when you want something even more special on a hot day or an alternative to champagne.
You can pick up a bottle from Instacart here.
---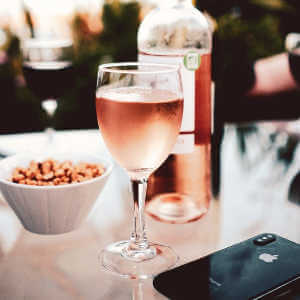 Is Rosé Wine Vegan – The Final Sip
There are three things I have learned from writing this article. The first is how to do an "é" on Word (if you are wondering it is Ctrl + ' + e). The second is that there are a whole host of great vegan Rosé wines available out there. Rosé is such a great option – especially when you are looking for something lighter, refreshing, and fruitier in flavor. It is why Rosé lends itself so well to drinking in the hotter summer months. As for the third thing, well I did promise that if you read to the bottom, I would tell you what temperature Rosé should be served, so here you go.
What Temperature Should Rosé Be Served At?
Rosé should be served at 50oF / 10oC with the bottle being chilled in the fridge at room temperature for approximately 30 minutes. Unless you plan on drinking your wine quickly, you should probably avoid ice cubes as they will dilute your wine as they melt…unless that is your kind of thing.
*You can double-check the vegan status of the above wines via the links in the below references.

…Now You Know
Beverage makers may change ingredients and/or manufacturing processes. Always double-check ingredients before purchasing any beverages.
Please Drink Responsibly.
---
Like What You Are Reading
Need to know more? Think your favorite beer or wine is vegan? How about your favorite Vodka, Tequila, or Gin – think those are vegan? Time to find out – check out some of my other articles: