Vegan Red Wine – in this blog post I am going to share with you my picks of some of the best vegan red wine available in grocery stores. That's right – it's time to sit back, let that bottle aerate, and go grab yourself an oversized wine glass because I am going to be talking about vegan red wines.  From Pinot Noir, Malbec, Merlot and all the way to Cabernet Sauvignon – red wine is the most popular type of wine amongst adults today. According to YouGov, 69% of wine drinkers say red wine is their favorite. Just look up any top wine list (such as Wine Spectator Top 100 wines) and you will find most, if not all of the top entries to be red wine. But what if you are vegan? What are the vegan red wine options available? Is red wine even vegan? And, most importantly what are some of the best vegan red wines available to buy?
What Are The Best Vegan Red Wines?
There are several vegan red wines available at major grocery stores. As a general rule, vegan Pinot Noir, Shiraz, Malbec, Merlot, Cabernet Sauvignon, Zinfandel, Garnacha, Red Blends, and even vegan boxed red wines are available at major grocery stores and online.
---
What Is the Difference Between Red Wine And White Wine?
I thought it would be best to start with some of the basics. Like what is red wine and how is it different from white wine. Okay, this may sound a bit basic, but it is not something I realized until I did a wine-tasting course.
Red wine comes from dark-skinned grapes. During the wine-making process, the wine is juiced with the darker skin of the grapes. This is what causes the "red" color of wine as well as providing its tasting profile – as a lot of tannins and flavors comes from the grape skins. This is unlike white wine, which can be made from either red or white grapes. The main difference is that the skin of red grapes is removed and not involved in the wine-making process when used for making white wines. If you want to learn about 15 amazing vegan white wines I cover them separately in my post: 15 Vegan White Wines – Best Pinots, Sauvignon Blancs, Chardonnays & Bubbles.
---
Want To Learn More About Wine?
Do you love wine? If you want to learn more about wine in general and whether it is vegan check out my post: Why is Wine Not Vegan? Time To Find Out the Truth.
If you love wine, but don't drink alcohol I have also covered everything you need to know about vegan non-alcoholic wines: 10 Non-Alcoholic Vegan Wines You Need To Know About.
---
What About Red And Rosé Wine?
While we are on the topic, if you are wondering about Rosé wines – these are made by a hybrid method. The skins of darker grapes are allowed a limited amount of contact with the juice before fermentation. If you want to learn about Rosé wine, then check out my post: 10 of the Best Vegan Rosé Wines (including Sparkling & Boxed).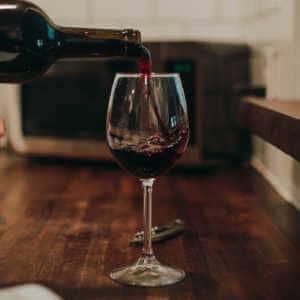 Is Red Wine Vegan?
There are many vegan red wines available. In general, there tend to be more vegan red wines than there are vegan white wines. This is due to the heavier use of fining agents in white wine manufacturing.
Does this mean all red wines are vegan? No. Whether a red wine is vegan or not depends on its manufacturing process and specifically the use of fining agents in its production. Fining agents are substances used at the end of the fermentation process to remove excess yeast and other unwanted molecules from the wine. The issue is that the most used fining agents are things such as Isinglass (dried fish bladders), Egg albumin, Lactose, Casein (Milk Proteins), and/or Gelatin. There are vegan-friendly fining agents available such as Charcoal, PPVP, and Bentonite. Also, red wine does not need to technically be fined. Wines tend to naturally fine themselves over time – using a fining agent just speeds up the process.
Labeling Issues
The issue is that wine labels often do not include any information on their labeling as to whether: (1) they are treated with a fining agent; (2) what that fining agent was; and (3) if the wine is vegan. However, increasingly winemakers are listing if their bottles are "vegan" on their labels.
This leads to the whole point of this article: to provide a list of red wines which you can know for sure are vegan.
---
13 Vegan Red Wines – Summary Table
---
13 Vegan Red Wine – Item-by-Item
Which Pinot Noirs Are Vegan?
One of the most popular types of red wine. Pinot Noirs tend to be lighter-bodied dry (not sweet) and tarter wines with complex flavors.
I have mentioned Layer Cake Wine before in my post about why wine isn't vegan (see Why is Wine Not Vegan? Time To Know The Truth). First, thing first – why is this wine named after a cake? Good question. The answer – is because Layer Cake wines are richly layered – just like a life well-lived. Their words, not mine. This Pinot Noir is layered nicely with notes of raspberry, cranberry, pomegranate, blackberries, plum, smoky dark chocolate, dried tea leaf, and tobacco. One of my personal favorites on the list.
If you want to try a bottle you can order Layer Cake Pinot Noir from Instacart here.
I have talked about Bogle wines before (for example in my post about the best vegan wines in Target). Not all Bogle wines are vegan, but a number are, including this Pinot Noir from Target here. Note that not all Bogle Pinot Noirs are vegan according to Barnivore (for example the 2020 vintage isn't vegan). However, this 2019 vintage is listed as vegan-friendly on the Target listing (love it when that happens!).
This Pinot Noir has notes of strawberries, cherries, tobacco, baking spices, and even crushed violets and would go great with garlicky portobello mushrooms!
Best Vegan Shiraz
When it comes to Shiraz something needs to be cleared up: "is it Syrah or Shiraz? And are they even the same thing?".
To answer your question Syrah and Shiraz both refer to the same type of grape. The difference is where that grape is grown. Syrah comes from France and Shiraz comes from Australia. For consistency, I am going to stick with Shiraz unless the mention mentioned is from France.
Shiraz wines are dry, dark, and full-bodied with lots of flavors coming straight away and then tempering away.
Because any vegan wine brand with a cake on the front of the label deserves two mentions on this list. The second entry from this Australian vegan wine brand is a Shiraz (if it sounds familiar it is because I have talked about it before in my post about the best vegan wines at Bevmo – Vegan Wines at Bevmo You Need To Try). This Shiraz provides dark cherries, blackberries, dark chocolate, and baking spices.
You can find a bottle from Instacart here.
Is Trivento Malbec Vegan?
The only Malbec to make it onto this vegan red wine list is from Trivento. Malbec is smooth with stronger fruit hints of black cherries and raspberries. They are low on acidity and tend to be fuller-bodied.
Trivento Malbec achieved vegan certification in 2021. Happy dance. This one had to make the list. This Malbec is a creamy medium-bodied wine with berry, plum, and herb notes.
You can buy a bottle from Instacart here.
What Merlot Is Vegan?
Merlots are dry fruit wines that are easily paired with many different options, making them one of the most versatile wines for food. Think fruit flavors like cherry and chocolate.
The best vegan Merlot on this list comes from Pizzolato. I have talked about Pizzolato before in my post about the best vegan wines at Whole Foods Market – see 10 Vegan Wines at Whole Foods Market You Need To Know About.
There is a reason Pizzolato is making another appearance here at Vegan Bev HQ. Pizzolato wines are certified organic, certified vegan, and do not contain any added sulfites. On the back label of this Merlot, there is the following ingredient list.
"Ingredients: Organic grapes.Vegan."
Incredible – great transparency. Other wineries take note. You can pick up a bottle of this transparent vegan wine from Amazon here. This Merlot has notes of smoked nuts, spicy raspberry-rhubarb pie crust, pink peppercorn, and chive.
What Cabernet Sauvignon is Vegan?
Cabernet Sauvignons are characterized by dark fruit flavors – think blackberries. They can also be aged in oak barrels to give them a vanilla flavor.
Currently, Line 39 red wines are all vegan and they are in the process of making all their white wines vegan. Now if that isn't a reason to celebrate with a glass of red I don't know what is. You can grab a bottle of Line 39 Cabernet Sauvignon from Amazon here.
This Cabernet Sauvignon provides all the fruit flavors you would expect such as plum, blackberry and currant with the bonus of black tea notes (on a side note if you want to know if tea is always vegan you can find out here – Is Tea Vegan? Time To Know The Complete Facts). This Cabernet Sauvignon has also been awarded Gold 93 Points by Sommelier Challenge.
I have mentioned Our Daily Wines before in my post about vegan wines at Costco (10 Vegan Wines at Costco You Need To Know About) and I have even talked about their boxed wines in my post about best vegan boxed wines (5 Vegan Boxed Wines You Need To Try (& Those To Avoid)). There is a good reason that Our Daily Wines has been mentioned several times here at Vegan Bev HQ. All their wines are vegan, and they shout about it on their website. They even label their wine bottles as vegan (gasp!). Here is a quote taken from their website –
"Our Daily Wines are vegan friendly and do not contain any animal-derived ingredients or dairy products. Unlike some conventional winemakers, we do not use fining agents such as egg whites, gelatin, casein (milk protein), or isinglass in the processing of our wines."
If you enjoy toasty vanilla notes in your Cabernet you can pick up a bottle from Instacart here.
Best Vegan Zinfandel
Zinfandels are full of flavor. Think flavor explosion. Medium-bodied wines with flavors of jam, blackberry, cinnamon, and ending on notes of sweet tobacco.
This vegan zinfandel has already made appearances in my posts on vegan wines at Costco (10 Vegan Wines at Costco You Need To Know About) and at Walmart (Introducing The 10 Best Vegan Wines At Walmart). This Zinfandel is described as being "a deliciously wicked product which is temptation at first sip". 7 Deadly Zins Zinfandel is also certified green. This is definitely a bold wine with spicy and peppery notes.
You can get yourself a bottle from Instacart here.
Best Vegan Garnacha
One of the lesser know red wines on this list is Garnacha. This Spanish-origin grape produces a stronger alcoholic wine (over 15% ABV), is medium bodied, and dry with fruitier flavors such as stewed strawberries, grilled plums, dried herbs, and blood orange combined with leather (not actual leather obviously – what this means in plain speak is "earthy" flavors).
I have talked about La Sonriente Garnacha wine before in the best vegan wines at Trader Joe's (see my post: 10 Vegan Wines at Trader Joe's You Need To Try).  This is a bold and earthy Spanish wine with notes of red cherry, black cherry, cranberry, and a hint of spice. It would go wonderfully with a slow-cooked vegetable stew on a cold winter's night.
This great wine is available from Trader Joe's, but you can also get it delivered directly to you via Instacart here.
Best Vegan Red Blend Wines
Red wine blends are just that – blends of different varieties of grapes to produce unique and distinct flavors. Blends will vary from producer to producer, but they are a unique way of getting flavors that are not just possible from one style of grape.
I have talked about the Avaline wine brand in my post bout Sprouts (The Best Vegan Wine at Sprouts for Vegans). Avaline is a vegan organic wine brand that states that it is vegan-friendly ON THE FRONT OF THE BOTTLE. This amazing wine brand was launched by Cameron Diaz in a bid to make wine more transparent. Something which I personally think the industry needs to push for more.
The wine is an earthy cherry-filled red with hints of cinnamon and brown sugar.
You can find yourself a bottle of Avaline Red Blend from Instacart here.
I am personally a big fan of Frey. I have talked about Frey Wines several times before (for example in my post about the best vegan wines at Whole Foods Market – 10 Vegan Wines at Whole Foods Market You Need To Know About). There is a good reason for this. Frey vineyards are committed to making organic vegan wines. This Frey Field Blend Biodynamic wine is bold and earthy with blackberry and boysenberry notes. This blend is made from Merlot, Zinfandel, and Shiraz.
You can try it for yourself here from Amazon here.
It is recommended you enjoy a glass of this wine with some eggplant tapenade – there is a recipe for this tapenade on the back label of the bottle and guess what – it is a vegan recipe. A vegan wine with a vegan recipe on the back label – what is not to love?
Intermingle red blend has been mentioned before in my post about vegan wines at ALDI (97 Vegan Wines at ALDI You Need To Know About). This Californian red wine is full-bodied, oaky, and made from Zinfandel, Merlot, and Cabernet Sauvignon.
You can order a bottle via Instacart here.
Best Vegan Red Boxed Wines
The last entry on the list goes to what I think is still an unappreciated asset of the wine industry – wine in a box. If you are vegan, and love red wine but are also looking for something eco and budget friend then boxed wine is the way to go. Just make sure you pick one you like otherwise you will be stuck with it for a while.
Wine Cube (a boxed wine exclusive to Target) has boxed red wines that are vegan. The following six Wine Cube red wines are vegan:
The only Wine Cube red wine that is not vegan is their Malbec. If you want to read more about vegan boxed wines, I dedicated a whole post to them here (I told you I was a fan of boxed wine): 5 Boxed Wines You Need To Try (& Those To Avoid).
If you want to grab a box you can find them at Target. For example, here is a link to the Cabernet Sauvignon from Drizly here.
---
Vegan Red Wine – The Final Sip
Vegan Red Wine – what have I learned from this article? Well, I learned that there is a great selection of vegan red wines available. From the common and popular varieties such as Pinot Noir and Cabernet Sauvignon to ones I just have never even heard of before I started researching this article. Have you heard of Grenache? But I am sure happy I did because it sounds delicious. The most important takeaway is that whilst red wine can be vegan, not all red wine is vegan (in fact most isn't). Until labels laws and rules change it remains a challenge for vegans to know exactly what red wines are and are not vegan. That's the whole point of the above list – 13 wines you can easily find and choose from. 13 red wines you can know are vegan. As for my personal choice, I would have to go with entry no.1 Layer Cake – I like light-bodied red wines.
*You can double-check the vegan status of the above wines via the below links in the references section.

…now you know.
Beverage makers may change ingredients and/or manufacturing processes. Always double-check ingredients before purchasing any beverages.
Please Drink Responsibly.
---
Like What You Are Reading
Need to know more? Think your favorite beer or wine is vegan? How about your favorite Vodka, Tequila, or Gin – think those are vegan? Time to find out – check out some of my other articles:
Wine
Liquor
Beer
Other