Is Vodka Vegan? The short answer is yes, most Vodka is vegan. However, out of all the liquors I have covered on this site (Vodka, Rum, Brandy, Gin, Tequila, and Whiskey) – Vodka as a category has the most non-vegan varieties available. To be precise, going through Barnivore, I found that 13% of vodkas listed were not vegan vs 87% that are vegan. The majority of vodkas that make up the non-vegan category are (1) creamy flavored vodkas (e.g. coffee, coconut, chocolate, and caramel) that contain dairy; (2) honey-flavored Vodkas that contain, well, honey; and (3) vodka brands that use animal-based fining agents or even animal-derived ingredients. Vodka is the best-selling liquor in the US with Smirnoff at no.1 and Tito's Vodka at the no.2 slot. This got me thinking what exactly are 10 Vegan Vodka Brands you can quickly and easily find in grocery and liquor stores?
There are a wide variety of vegan vodkas brands whose entire range of vodkas is vegan. Some examples of big vegan vodka brands include Absolut Vodka, Grey Goose Vodka, Tito's Vodka, and Ketel One Vodka. Some of these vodka brands even have vegan-flavored vodkas.
Is Vodka Vegan?
I covered everything you ever wanted to know about Vodka in my post: Is Vodka Vegan? Hidden Surprises To Know About In Vodka. This included what is Vodka, how Vodka is made, and what is Vodka made of (yes, vodka can be made from pretty much anything – including things like Potatoes, Horseradish, Grapes to even Whey and Milk – those last two are not vegan), and most importantly is Vodka vegan?
If you are wondering, most common vodkas are still made from Wheat, Rye, or Grains. And, yes, most Vodkas are vegan with the exceptions of those: (1) cream-based flavors; (2) honey-flavored; (3) those that contain animal-derived products; and (4) vodka brands that just do not want to claim vegan status (e.g. Smirnoff) i.e. these vodkas aren't necessarily non-vegan – it's just the companies don't / can't claim vegan status.
Which Vodka Brands Are Vegan?
Often when writing these posts, I want them to be as helpful as possible – something you could really use when faced with the decision of what Vodka you can purchase as a vegan. Since I have covered everything you need to know about Vodka in general as a vegan in my post: Is Vodka Vegan? Hidden Surprises To Know About In Vodka. In this post, I want to specifically share with you 10 vegan vodka brands you can quickly and easily select from.
Okay, so I am not going to condescend. You can probably easily pick a vegan Vodka simply based on the process of elimination. In this list, though, I want to share with you those 10 vodkas that are positively vegan and shout about it from the rooftops. You know, a vodka brand whose entire range is vegan and they are loud and proud about it (either via their website or via Barnivore. SPOILER ALERT – one of them even has the word 'vegan' in the brand name. Happy dance).
Vegan Vodka Brands – Summary Table
---
---
Vegan Vodka Brands – Item-by-Item
Tito's Vodka super helpfully addresses whether their vodka is vegan on the F&Q section of their website. On their website, they state that Tito's does not use any animal ingredients or by-products, they don't use any animal products in the production process, and they don't carry out animal testing.
It is important that they distinguish between using animal ingredients or by-products in their vodka and in their production process. As often whilst the ingredients of a beverage may be vegan, non-vegan substances can be used in the production process. For example, non-vegan fining agents such as Isinglass, Gelatin, Milk Proteins (Whey), Egg albumin, or Lactose.
Tito's Vodka is also made in old-fashioned pot stills in Texas (this process is like the processes used to make high-end French cognacs and single malt scotch).
If you fancy seeing what all the fuss is about you can buy Tito's from Amazon here.
Absolut also helpfully address its vodkas vegan status in the F&Q section of their website:
"YES. All Absolut products are absolutely vegan, thus they do not contain any animal products and no such products are used in the production process. We do not use any animal derivatives, either directly in the product itself, or to filter the product. We do not use bone chars in any process."
They even address if bone char processed sugar is used which is normally virtually impossible to know from a product.
Absolut has an amazing range of flavored vodkas (from grapefruit to lime to citron). My favorite? The watermelon – I am a sucker for Watermelon flavored things.
You can try out a bottle of Absolut Watermelon from Instacart here.
Whether Grey Goose is vegan or not is not addressed on its website. However, on Barnivore they have confirmed that they do not use any animal ingredients or by-products, as well as not using bone char in the production process (they instead use charcoal made from wood). This makes Grey Goose vodka vegan.
The original Grey Goose vodka is made from simply two ingredients from France – soft winter wheat and Gensac spring water.
You can grab a bottle of Grey Goose vodka on Amazon. 
Hera The Dog, yes – you read that correctly. Whether you think this vodka is a clever play on words or is just "cheesy" doesn't matter because the company behind it is amazing. Completely female-owned, this vegan brand donates back to animal charities. Oh and their Vodka is completely vegan.
Made from water and organic wheat this Vodka is a great selection if you are looking for something vegan, organic, and supporting vegan causes.
Go grab yourself a bottle immediately from Instacart here.
Ketel One, along with Tito's and Absolut, is one of the bigger brands on the list. According to Barnivore all three of Ketel One's Vodkas are vegan. These are made up of Ketel One's Citroen, Oranje, and plain Vodka.
Ketel One Citroen is infused with the essence of four different types of citrus lemons, and two types of limes. If you are a citrus fan this one is for you.
Ketel One Oranje is infused with Valencia and Mandarin oranges, which add floral and fruity notes.
If you like to keep things simple and unadulterated then Ketel One unflavored vodka is for you.
You can pick up a bottle of the Ketel One unflavored vodka from Amazon here.
Ving Vodka goes by the slogan "the world's cleanest vodka". To be honest, not sure what that means given how the whole distillation process works for vodka, but given its name, you would think it would be vegan, right? I am pleased to tell you that Ving Vodka is vegan. Ving is also a female-owned company and makes their vodka organic as well as additive and sugar-free (ah, okay, I get the "clean" reference now).
You can buy Ving's kale, lemon, and cucumber vodka from Instacart here.
This potato-based vodka comes from the land of potatoes – Idaho! What is not to love about this potato vodka concept? And of course, it gets even better as it is vegan! You can treat yourself to a bottle of Blue Ice Potato Vodka from Instacart here
No, this is a subheading. Vodka is Vegan is the name of the brand. Personally, I like it. Get straight to the point. If only more liquor and alcohol brands could just come out and tell us straight away if they are vegan or not that would be great (wine industry I am looking at you right now).
Whilst, not all Vodka is vegan, Vodka is Vegan is. Does that make sense? Let's try that again. Vodka is Vegan is vegan. Okay, that still doesn't make sense. One more time. Vodka is Vegan is a brand of vodka which is vegan. There we go.
Buy it just for the name and to admire its open "veganity" (I literally think this may be a new word).
You can buy Vodka is Vegan directly from their website here.
Vapid Vodka made it onto this list because: (1) it is vegan (duh); and (2) its vodka is made entirely from clementines (or as they say on their packaging Californian Citrus) and is completely unfiltered. See no grains – see I told you vodka can be made from anything. How amazing is that?
Now, the question you are wondering is does it taste like clementine? The answer is, slightly yes it does. Drinking the vodka, you will get a trace of citrus together with notes of vanilla custard.
This is a more special bottle of vegan vodka on the list retailing at a more expensive price point than some of the other vodkas, but I think it is worth it.
If you would like to try a bottle of this sunny vodka you can order a bottle direct from the manufacturer here.
The last entry on the list is Rhodium Vodka. Now you may be mistaken to think that this Vodka has a relation to Rhodium the element – you know that rare silvery-colored metal that is used to make nitric acid or acetic acid. But you would be wrong. You will be pleased to know that "Rhodium" in the name in this instance refers to the location of this small distillery from Rhode Island – Rhode Island Spirits. Glad I cleared that up.
Rhodium Vodka is made from 100% corn, is distilled seven times, and is charcoal filtered. They even add locally grown apples to the final distillation. All their drinks are certified vegan on their website, and it is an LGBT-owned spirits brand that does a lot to promote and support LGBTQIA+ causes.
Find out more about Rhodium on their website here.
---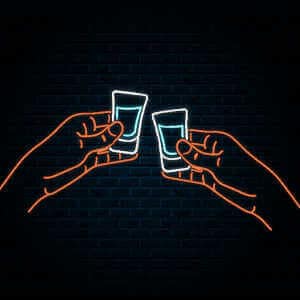 10 Vegan Vodka Brands – The Final Sip
What does the above list show you? Well, it shows that there are amazing and completely vegan vodka brands out there just waiting for you. Most importantly, most of these brands are easily accessible in your local grocery and liquor stores. Next time you must get some Vodka and you need it to be vegan use the above list and never be in doubt if the vodka brand you are purchasing is vegan. Oh, and wondering why Smirnoff is not on the list. Well, it is because they have never really confirmed or denied if their vodka is vegan or not – so sorry, they lose out on a spot. As for my personal favorite pick – it would have to be entry no.9 Vapid Vodka. The hint of the citrus flavoring I think works amazingly in Vodka, plus mixes well with orange juice for a great mixer. Oh, and if you are wondering – orange juice is not always vegan. Don't believe me then check out my post: Is Orange Juice Vegan? Revealing Why You Need To Know.
You can double-check the vegan status of the above vodkas via the links in the below references.

…now you know.
Beverage makers may change ingredients and/or manufacturing processes. Always double-check ingredients before purchasing any beverages.
Please Drink Responsibly.
---
Like What You Are Reading
Need to know more? Think your favorite beer or wine is vegan? How about your favorite Vodka, Tequila, or Gin – think those are vegan? Time to find out – check out some of my other articles: