What cocktails can you have if you are vegan? In this blog, I am going to be going through everything you need to know about cocktails and more specifically vegan cocktails. In it, I will share with you the main things to look out for when ordering cocktails when you are vegan and general tips and tricks for making your favorite cocktails vegan. After all, let's face it, just because you are vegan why shouldn't you be able to get an over-the-top drink with a little umbrella and some sparkles? Or just a delish concoction – cocktails don't have to be flamboyant (…I guess).
What Cocktails Can Vegans Have?
As a general rule, a lot of cocktails are vegan as-is. However, some cocktails are not vegan – the main reasons being the use of non-vegan liquor, egg whites, dairy, non-vegan sugar, and/or anchovies. Virtually any cocktail can be made vegan with vegan liquor, vegan sugar, aquafaba, vegan milk, or vegan Worcestershire sauce.
Are All Cocktails Vegan?
When it comes to cocktails, not all cocktails are vegan. The main reason for this is the use of non-vegan ingredients. Yes, these make their way into cocktails as well. When ordering cocktails as a vegan there are a few things to watch out for:
Non-Vegan Liquors
Most liquors are vegan, but some are not due to the presence of honey, non-vegan fining agents used in the production process, cochineal (crushed bugs), dairy, or non-vegan sugar. In most instances, vegan alternatives exist for most non-vegan liquors. For example, Malibu Rum or Kahlua Coffee liquor (both popular ingredients in certain cocktails) are not vegan, but there are alternative vegan-friendly liquors available.
1. Egg whites
Egg Whites are a common ingredient used in cocktails such as "sours" and "fizz" drinks, e.g., gin fizz, pisco sour, or a whiskey sour. Why Egg Whites? Well, they are used to create that foaming head on the drink. The good news is that there are vegan ways to create the same effect.
2. Dairy
A common non-vegan ingredient in creamy cocktails is often dairy such as cream or milk. This is especially the case for cocktails such as White Russians, Irish Coffees, Espresso Martinis, and Brandy Alexanders. These can easily be substituted with a plant-based milk or cream alternative.
3. Anchovies
Anchovies are the culprits that make most Bloody Marys not vegan. This is because Worcestershire Sauce (one of the main ingredients for a Bloody Mary) is made from fermented anchovies.
4. Bone Char Processed Sugar
Some sugars can be processed with bone char (i.e. charred animal bones). This is done to make the sugar white in color. The problem is most associated with sugar processed in the USA. This means the sugar used in your cocktail may not be vegan. However, this can be rectified by using non-bone sugar processed sugar, or other sugars such as raw beet or organic sugars.
---
What Alcohol Is Vegan?
Most alcohol used in cocktails is vegan. In fact, rough and ready calculations of the vegan vs not vegan liquors on Barnivore show the following:
---
| Liquor | % Not Vegan | % Vegan |
| --- | --- | --- |
| Vodka | 13% | 87% |
| Brandy | 10% | 90% |
| Rum | 10% | 90% |
| Whiskey | 7% | 93% |
| Gin | 5% | 95% |
| Tequila | 4% | 96% |
---
Why Some Liquors Are Not Vegan
The main reasons why the six main liquors sometimes are not vegan are summarized below.
---
Liquor
Main non-vegan exceptions
Vodka
Creamy flavors e.g. coffee, caramel, coconut & chocolate – contain dairy

Honey flavors
Tequila
Tequila cream liquors contain dairy
Brandy
Cochineal in Cherry Brandy

Sugar processed with bone char
Gin
Honey in gin (even if it is not labeled as "honey flavored")Cochineal in some red-colored gin (e.g. blood orange gin)
Whiskey
Whiskey creams contain dairy

Honey
Rum
Honey

Malibu uses non-vegan sugar

Rum cream liquors contain dairy
---
Want to learn more about your favorite liquor?
Are you vegan and just Love Gin? How about Tequila or is Whiskey your go-to tipple? If you want to learn more about your favorite liquor including how it is made and a breakdown of whether it is vegan or not (including a list of vegan-friendly brands) then you can check out some of my other posts below:
---
Vegan Cocktails Cheat Sheet Guide
In this section, I wanted to share with you some of the most popular cocktails available and how you can easily make them vegan.
Vegan Gin Cocktails
There are plenty of gin cocktails that vegans can have. These include:
vegan gin fizz;
vegan gin sours;
vegan G&T;
vegan negronis; and
vegan martinis.
The tricks to ensuring all these gin cocktails are vegan are as follows:
use aquafaba in the gin fizz and gin sours instead of egg whites. Aquafaba is the juice from a can of chickpeas, and it foams up similarly to egg white when dry shaken in a cocktail shaker;
use a vegan tonic in a G&T (Schweppes tonic is not vegan as it contains honey);
use a vegan alternative to Campari in a Negroni (Campari is filtered with gelatin). Luxxardo Bitter Rosso is a great vegan alternative (Luxxardo can be bought from wine.com here);
use a vegan vermouth in a Gin Martini and Negroni. Martini & Rossi Vermouths are not vegan but there are great vegan vermouth brands out there such as Dolin (Dolin can be bought from Amazon here); and
using maple syrup instead of sugar syrup.
You can read more about how to make a great vegan gin cocktail here – How To Make Vegan Gin Cocktails (Fizz, Sours, G&T, Martini & Negroni).
Vegan Vodka Cocktails
There are plenty of vodka cocktails that vegans can have including:
vegan Bloody Mary;
vegan white Russian;
vegan vodka sours;
vegan vodka hot chocolate; and
vegan screwdriver.
The tricks to making sure all these vodka cocktails are vegan are as follows:
using a vegan cream rather than dairy cream in a White Russian;
using Kamora coffee liquor rather than Kahlua (which is not vegan due to bone char sugar);
using maple syrup rather than sugar syrup;
using Aquafaba rather than egg whites;
using vegan milk rather than dairy in a vodka hot chocolate; and
using 100% orange juice and not orange juice marked as heart healthy or vitamin D3 fortified (which often are not vegan – see my post Is Orange Juice Vegan? Revealing Why You Need To Know).
You can read more about vegan vodka cocktails here – How To Make Vegan Vodka Cocktails.
Vegan Rum Cocktails
There are many vegan rum cocktails that can be made including the following:
vegan eggnog;
vegan daiquiri;
vegan dark n stormy;
vegan pina colada; and
vegan White Russian.
The tricks to making the above rum cocktails vegan include:
using vegan nut and oat milk instead of dairy in the rum eggnog;
using maple syrup instead of sugar syrup;
using Rumhaven rum (on Instacart here) rather than Malibu in a Pina colada (Malibu isn't vegan); and
use Kamora rather than Kahlua in a white Russian, as well as vegan cream instead of dairy.
Vegan Cocktails to Make at Home
In this section, I wanted to share with you some simple and easy vegan cocktails you can make for yourself at home. There are plenty of easy vegan cocktails that can be made at home using vegan liquor, vegan milk, aquafaba, and vegan sweetener such as maple syrup.
Vegan cocktails that can be made at home include:
vegan vodka cocktails such as White Russian;
vegan rum cocktails such as Pina Colada;
vegan tequila cocktails such as Margarita;
vegan gin cocktails such as Negroni;
vegan whiskey cocktails such as Whiskey Sours;
vegan brandy cocktails such as Brandy Alexander
vegan prosecco cocktails such as Aperol Spritz
vegan red wine cocktails such as Red Wine Spritzer; and
vegan beer cocktails such as Shandy.
If you would like to try making any of the above vegan cocktails at home, then check out my post on Easy Vegan Cocktails To Make At Home.
What Mixers Are Vegan?
When it comes to making cocktails, especially making them at home, one of the easiest and quickest ways of making them is to use a mixer. That begs the question – what mixers are vegan?
Many cocktail mixers are vegan. The main non-vegan ingredients to watch out for in cocktails mixers are:
anchovies in Bloody Mary mixers (this is from the use of Worcestershire Sauce);
dried milk and egg in powdered mixers; and
non-vegan sugar in mixers.
I covered everything you need to know about vegan mixers in my separate post on vegan mixers. It includes ten awesome vegan mixers that can be bought on Amazon – it even includes a powered vegan mixer and a vegan Bloody Mary Mixer.
Vegan Mocktails
What is the great thing about cocktails? Well, it is a flavor profile you get. Best of all, you don't always need alcohol to make a delicious cocktail. If you want a vegan cocktail but without the alcohol, mocktails can be a great alternative. This is especially true with the availability of some pretty amazing vegan non-alcoholic liquors available today.
There are many Non-Alcoholic vegan pre-made cocktails available to buy. From non-alcoholic Moscow Mules to Bitters to Bloody Marys to Cosmopolitans to Mojitos. These non-alcoholic vegan cocktails can come in a variety of formats from powder, to can, to bottle.
In the below table, you can find some of the best pre-made vegan non-alcoholic cocktails.
---
| Best Vegan Non-Alcoholic Mimosa | Best Vegan Non-Alcoholic G&T | Best Vegan Non-Alcoholic Moscow Mule | Best Vegan Non-Alcoholic Margarita | Best Vegan Non-Alcoholic Cosmopolitan |
| --- | --- | --- | --- | --- |
| Fauxmosa | Lyres Ready To Drink G&T | Spirity | Mocktails | STOUT |
---
You can find out more about these vegan non-alcoholic cocktails including where to buy them here – Vegan Non-Alcoholic Drinks – Revealing What You Need To Know and 10 Vegan Non-Alcoholic Cocktails You Need To Know About and Try.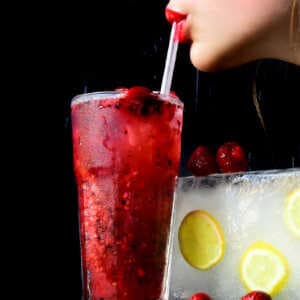 What Cocktails Are Vegan – The Final Sip
What Cocktails Are Vegan – what have we learned today? Well, we have learned that cocktails for the most part are vegan, however, there are a few you need to be on the lookout for. These include creamy-based cocktails, sours or fizz-based cocktails, and Bloody Marys. These are the main offenders, but also always ask what liquor is being poured into your drink. As you saw from the table above most liquors are vegan (87% and above for most liquors) – but it is still worth double-checking. After all – cocktails are a special treat, and you don't want it spoiled by finding out that the liquor used was not vegan would you know? Worse case situation you can always easily make your own cocktail at home – just think how much you will save, plus they will always be vegan.

…now I know.
Beverage makers may change ingredients and/or manufacturing processes. Always double-check ingredients before purchasing any beverages.
Please Drink Responsibly.
---
Like What You Are Reading
Need to know more? Think your favorite beer or wine is vegan? How about your favorite Vodka, Tequila, or Gin – think those are vegan? Time to find out – check out some of my other articles:
General
Wine
Liquor
Beer
Other